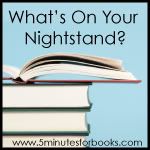 It seems like it's been a while, perhaps because I didn't link up or visit around in December, because I was visiting family.
But I'm back, and I've got quite a pile on my own nightstand (and on my closet shelf), and I'm hoping that by setting some goals, I'll actually get through them. We shall see!!
What about you? Are you digging into your Christmas booty? Perhaps catching up on review titles? Or reading along with one of your children? We'd love to hear about what you are reading, or what you've just completed. Write a post on your blog, and link up below, or if you don't have a blog, join us in the comments.
Check out our current giveaways. Subscribe to our feed. Follow us @5M4B on Twitter or on Facebook.