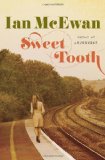 I'm a big fan of Ian McEwan and I begged for the chance to review this title. I have loved previous works of his, in particular Atonement
. (NO it doesn't count if you saw the movie!) However, initially I had the hardest time getting into this book. I'd read an excerpt of it in the New Yorker, and he gives several clues in the beginning so I thought I knew how it would end. I read along, enjoying the attention to detail and realistic characters that are a mark of a great novelist, but somehow I wasn't engaging as I'd expected I would, in part because I thought I knew exactly what was going on.
I finished it last night and WOW–I loved the ending. In an instant, it changed how I viewed everything previously, so that looking back, I love the book. I can't wait to re-read it with all my current knowledge, and I know I'm going to be fully engaged, spying into corners and examining details to see how it holds up. It's masterful and fun at the same time, and best of all, I didn't see it coming. So, go get it and read it and DON'T–whatever you do!–peek ahead, because it's a lot more enjoyable this way.
Oh I suppose you want a synopsis. All right then. Here it is. Sweet Tooth
tells the story of Serena Frome (rhymes with Plume, although I'm still pronouncing it "From" in my head), a studious, attractive girl, daughter of a bishop, who gets into Cambridge to study maths at the behest of her mother even though she'd rather study English. She's an insatiable novel-reader, which of course endeared her to me. She ends up having an affair with a much older man, an intelligence officer, who encourages her to apply for a job in M16, Britain's spy service. He also undertakes to give her a bit more of an education in current affairs, and sort of grooms her for the job. Once in, she's given very dull secretarial work, although her evenings are enlivened by her friendship with Shirley, a lower-class girl from a middle-of-the-road college who likes rock n' roll and hanging out in pubs. The two are assigned one day to clean a safe house, where Serena finds evidence of her former lover.
Sweet Tooth
is set in the early 70s, and manages to thoroughly capture the England of its time. (At least I suppose it does. I was alive then but barely cognizant) It was a time of much turmoil, economic and political, and the IRA were really starting to make their presence felt. Meanwhile, the Cold War was in full swing and East Germany and the USSR were viewed with much suspicion. Serena gets drafted into a scheme known as Sweet Tooth, which secretly supports writers and artists whose views are sympathetic to the government's priorities, hoping to manage the cultural conversation and swing public opinion their way. And that's where the story really begins…
(Seriously, do not peek. It will RUIN it for you)
Ian McEwan is, of course, a fantastic writer. Even his minor characters are well realized, and his ability to paint pictures with words put the reader in the middle of the action. There are stories within stories, and his characters read like real people you might just run into on a street corner. This is a story about seeing ourselves as others see us, about deception and intrigue as part of love, about the unwritten contract between reader and writer. It's a book about books, and authors, and writing. It's a story of jealousy and love, of forgiveness and betrayal. It leaves you thinking, connecting puzzle pieces, contemplating questions and ideas. Highly recommended.