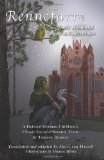 In the time between the two world wars, on a small farm in Germany, there lived a girl named Dott. Like most 12 year olds, she feels that her parents don't recognize how much she's grown. When they leave her home from the bonfire on Midsummer's Night, she's angry and sneaks out through the fields to watch the bonfire herself. A rennefarre, a small magical flower, attaches itself to her shoe, rendering her enchanted and invisible to all live humans, but able to see and hear magical creatures and able to talk with animals.
Dott embarks on a wonderful series of adventures that take her all over Germany and all over history as well. At first, of course, the birds are appalled at her–a human child, of the sort who throw stones and take captive and kill their kind. But Dott wins their love and respect by helping them, first by freeing a large owl who's been taken captive, and then by rescuing a young heron. The birds agree to protect and help her. She meets the magical Frau Harke (a sort of Mother Nature), who grants her three wishes. Dott wastes the first two by mistake (flying up into a large tree and then making it down safely), but uses the third to create a golden cup which will change her size when she rubs it. Using this, she makes herself small enough to travel on the backs of herons and crows.
Rennefarre
is a fairy tale that encompasses so much more, and is really very thought-provoking in many ways. As Dott travels not only geographically but chronologically as well, finding herself amongst warring tribes and reliving some key moments in Germany's long history, she learns of the destruction and terror of war, and the  responsibilities of humans to care for the land and animals they govern. Dott experiences medieval life among peasants and kings, see funerals of great kings, and sees how a city changes over the centuries and how it can be difficult to attribute its building to any one people. In addition, she meets water sprites and mountain spirits, talks to cows, dogs and birds, and learns to live among the animals and be respected by them for her choices.
Rennefarre
is really a coming-of-age story and speaks, interestingly enough, to a crossing of cultures as well. Dott has to learn how to not offend the birds who help her travel with thoughtless remarks about the grossness of eating worms, for example. She recognizes that she must think before she speaks, and she learns perseverance too, as she deals with loneliness and hunger, and has to rely on her wits at times to keep herself alive. In her travels, she meets people from all walks of life, from all classes, from all time periods, and she gleans from this what is truly important, and what kind of person she wants to become. It's a very different Dott, much wiser and kinder, who is eventually freed from her enchantment and returned to her mother.
Rennefarre: Dott's Wonderful Travels and Adventures
is a delightful book for a variety of ages. The books was originally written in German by Tamara Ramsay. Translator  Malve von Hassell has added in a very helpful time-line and glossary in the back of the book and also put together a website with supplemental information. The book also contains delightful illustrations by Monica Minto. I highly recommend this book. I've rated it  both middle reader and Young Adult, as it will easily appeal to a variety of ages (in fact, I enjoyed it myself and I don't count as young adult anymore). Like all the best books, it contains much that will spark thoughtfulness and discussion while still being a really good read, a classic fairy tale that subtly teaches us lessons about ourselves and our times.
I'm participating in a book tour for Rennefarre
. You can read others reviews here and visit author/translator Malve von Hassell's website here.