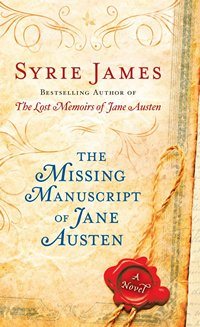 The Missing Manuscript of Jane Austen is not a literary discovery, but instead a novel by Syrie James. But what's cool is that it's a novel within a novel which actually includes her own rendition of a Jane Austen manuscript.
Samantha McDonough is investigating a letter she finds in a book of poetry, indubitably written by Jane Austen, which references a lost manuscript. Samantha finds the home Austen mentions, where she encounters Anthony Whitaker, who is trying to get the home that has fallen into disrepair ready to sell after his father's death. Samantha convinces him to look for the manuscript, and they actually find it.
They begin to read The Stanhopes aloud, and go late into the night. Samantha is charmed by this work which she knows Austen wrote, and is beginning to be charmed by Anthony, in spite of the fact that she has a boyfriend, the one with whom she came to England — he to attend a medical conference and she to explore some old haunts.
Being back in England has reminded her of her decision to leave Oxford after not finishing her dissertation. She thought she was happy as the librarian of a small university, but this delve into research and the world of Jane Austen has her doubting her decision.
The novel flips back and forth between the real-life and happenings of Samantha (and Anthony) and the reading of the "Austen" novel. At first, I was a little non-plussed by this intrusion into what I considered to the be "real" story, but I quickly fell in love with the novel within a novel written with Austen flair and style.
Come back tomorrow to read author Syrie James' guest post about the importance of her writing space, and then you can enter to win your own copy of The Missing Manuscript of Jane Austen (by leaving a comment on that post when it goes live).