Christmas, of course, means entertaining. If you're like me, you love having people over, and enjoy trying new recipes and new twists on old classics. Your heart is filled with joy at the sight of empty plates, and when your son says, "Mom, you're the BEST cook!" it makes you happy.You love seeing your home filled with friends having a good time.
There are some gorgeous new cookbooks out this year, combining mouth-watering recipes with beautiful photographs. Today I'm going to tell you about two.

Easy Roasting: Simply Delicious Recipes for Your Perfect Roast

I am so excited about this cookbook! I don't actually cook roasts all that often, although we really enjoy them. But paging through this book had my mind spinning with ideas. I think for Christmas I'm going to do honey-roasted spiced lamb (p 87) with potato gratin (p.177) and baby squash stuffed with lemon, currants and herbs (p. 206). At Thanksgiving, I made the Brussels sprout recipe (slow-cooked Brussels sprouts with pancetta and chestnuts, p. 213, only I used turkey bacon (Muslim friends) and skipped the chestnuts). Everyone (well, all the adults) loved them.
The book is crammed full of delicious-sounding recipes. From traditional roasts such as beef, lamb, chicken and turkey, to salmon, monkfish, sea bass, rabbit and guinea fowl, this recipe has something for everyone. Even the more common roasts are given new treatments–roast pork fillets with creamy Thai-spiced sauce, or Sonoran spiced orange chicken, for example.
This beautiful cookbook is immensely practical as well. So many ideas! A perfect gift for the cook on your list.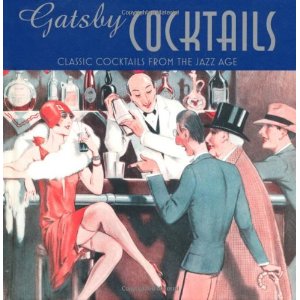 Gatsby Cocktails: Classic Cocktails from the Jazz Age
This is another beautiful little book, perfect for a 20s-themed party or just an evening with friends. This collection of cocktail recipes from the roaring 20s reflect a time when cocktails really came into their own. In the US, Prohibition was at its height, so the only alcohol available was from bootleggers at speak-easys or private parties such as the lavish ones thrown by Jay Gatsby in F. Scott Fitzgerald's classic book The Great Gatsby. According to the introduction, cocktails grew in popularity because the uneven quality of home-made booze produced strong flavors that sometimes needed masking with fruits and sugars.
This book reproduces classic recipes from the 20s: Gin Gimlets, Martinis, Daiquiris, Gin Fizzes, Mint Juleps, Manhattans, Sidecars, and more. Additionally, it includes variations and recipes that have been lost to time: The Silk Stocking, the Elderflower Collins, Raspberry Rickey, the Silver Bronx, or the Dirty Martini  (a round of which were served to Stalin and Churchill by FDR himself!).
There are gorgeous photos of the cocktails themselves, and fun period pictures (although I am wondering how the girl on the cover got her leg to do that). Sprinkled throughout the book, you'll find trivia on the drinks, their names and histories, and quotes from The Great Gatsby.
Both books would make great presents, either for yourself or for someone else.
Elizabeth loves food and drink, and it shows in her waist size! She loves to spend an evening with good friends and good food. Learn more at her blog Planet Nomad.