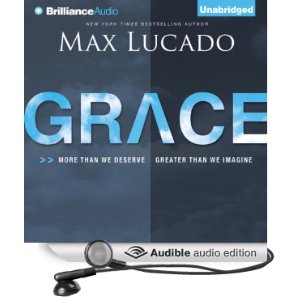 Grace: More Than We Deserve, Greater Than We Imagine is a wonderful book for mature Christians who want to be reminded of the glories of God's grace. Along the line of thought of the "more you know, the more you realize you don't know," I've realized I can never get enough teaching on grace.
But — it's also the kind of book that might encourage a wayward believer to return. Or a skeptic to reconsider.
Max Lucado is so warm and accessible and real. His teaching is legitimate, but easy to accept. He shows grace experienced and lived out through examples of real people, scripture, and quotes from spiritual giants.
It's also short (240 pages or 2 1/2 hours of listening). Definitely worth the time and effort, whether the reader/listener is reluctant or excited about it.
AUDIOBOOK NOTES:
Wayne Shepherd narrates this book. He's almost a little stiff and almost too resonantly perfect. He definitely has a voice for radio. I sort of wish that Max Lucado himself had narrated it. He's certainly a practiced speaker, but I'm sure he's a little busy. That said, Lucado's writing lends itself to listening. He writes with a poetic rhythm, so I really enjoyed listening to this one.
 Jennifer blogs at Snapshot, more frequently about mundane issues than deep spiritual doctrine.