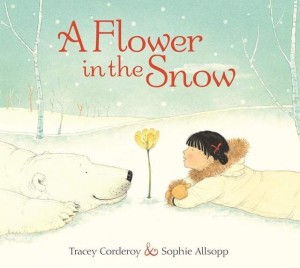 Two best friends in a wintry world, surprised by the sudden appearance of a yellow bloom. This heartwarming story is told in the new picture book A Flower in the Snow by Tracey Corderoy and Sophie Allsopp, and the depths of a friendship are illustrated in the warm pictures that will surely appeal to young readers.
When Luna is saddened by the wilting of that wonderful yellow sunshine flower, Bear is determined to find her another in order to bring a smile back to Luna's face. In his absence, Luna realizes what she actually needs to make her truly happy.
Click over to my full review of A Flower in the Snow at 5 Minutes for Mom for more of my thoughts on this adorable picture book, and while you're there be sure to enter the giveaway to win a copy for a child in your life!
Dawn is always happy to add new picture books to her growing collection. She writes about everything from books to her crazy kids to National Public Radio on her blog my thoughts exactly.