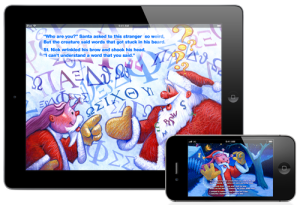 I treasure Christmas books. Every year, my parents bought me a new book for Christmas, and this is a tradition I've maintained with the wee ones. Except now the concept of books has expanded to include apps, such as Saint Nick and the Space Nicks by Richard Chase Mears – available both on the iPad and  for iPhone ($1.99).
Saint Nick was originally a "standard" book – and is of course still available in that format – but now comes in an interactive app that children can read alone or have read to them. The app also includes coloring pages that kept Little Miss occupied and entertained, as well as the now traditional interactive aspects to the app as you read the book.
The story is delightful and has a great Christmas message. As Saint Nicholas is delivering toys on Christmas Eve, he spots a giant purple pie flying and then crashing. It turns out to be Venick from Venus who needs help delivering all his toys in time. The Santas from all the planets come together to help. The story rhymes but isn't overly sing-songy and has several somewhat unexpected twists.
To be honest, I expected the book to end after the first twenty or so pages, but the story continued in a slightly different vein. After Saint Nicholas explains about Christmas on Earth and goes off to help him, another aspect of the story is uncovered where we are introduced to all the other Santas out there around the galaxy going into great detail of the differences amongst them but yet how they all work the same. And I thought the story ended there, too, but then there was a night "when a part of space fell through our ozone fence," and Saint Nicholas needed help himself.
The story is heartwarming, and the interactions are entertaining. I love where Venick's words get caught in Saint Nick's beard and the animation shows them truly doing so. Often in the background of the story stood a house. I discovered that clicking on the window to turn the light inside on and off produced a different reaction on each page from a man grumbling to a dog barking to a distraught woman – awfully cute and clever. I've seen book apps that are more complex in their animations and where the animations are easier to uncover, but the wee ones both enjoyed the ones we found and had no complaints.
While we'll always still have our traditional Christmas books, the interactive apps that bring books to life like Saint Nicholas and the Space Nicks become more and more the norm – and they are a fun way to spend time together unlocking their mysteries.

Michelle is a sucker for good Christmas books and loves rereading her favorites every year. See what else she loves on her blog Honest & Truly!