Since Not For Parents: New York City is published by Lonely Planet, I would have assumed it was a travel guide — just aimed at kids, "Not for Parents." However, it does claim to tell you "everything you ever wanted to know," and if you're a kid, that is definitely not the best place to get a slice of pizza.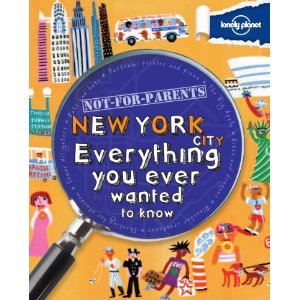 In reality, it reads more like a fun, colorful fact-filled almanac. The pages are comic-book style, with many different items of interest on each page. Real photographs and a few hand-drawn illustrations make it visually appealing. The paragraphs are short but interesting.
The topics include famous places (such as Statue of Liberty, Ellis Island, Wall Street) and arts (museums, artists, musicals), and famous people, both current and historical.
We used to live near NYC, and we hope to visit again soon, so I thought that this would interest my 8-year-old son. It did, but not because he visited there frequently. He just liked the book. It's in a format that he appreciates, so it made for a fun read.
This would pique a child's interest about an upcoming trip, I'm sure, but I can honestly recommend this to any kid who enjoys fun facts. If you're lucky enough to have a trip planned to New York City this holiday season or this summer, this would be a fun book to bring along.

Jennifer misses New York City and has written frequently about her love of the Big Apple on her blog Snapshot.