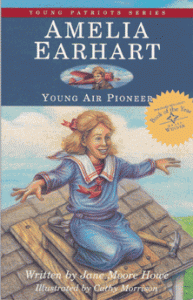 I'm in love. Seriously in love. As a history buff, I'm constantly on the prowl to find history books that will engage my children in the same way I feel engaged with people from the past. Growing up I would read the "We Were There" series for fun! (Anyone remember those or know where to find them?!) I'm curious about people and I like knowing where we've come from and where we've been. In my quest to find books that will hopefully delight my children in the same way I was delighted with the "We Were There" books, I stumbled across the Young Patriot Series published by Patria Press. You must go check out their website. Their list of biographies is long and thrilling.
The other day I was in bed with a head cold and made my way through several of these books. I loved every single one. The Young Patriot Series focuses on individuals in American History who shaped our present and future in some form or fashion. The first book in the series is of Amelia Earhart. The author of this particular book, Jane Moore Howe, made friends with "Pidge", Amelia's sister, and gathered quite a few examples from Earhart's growing up years to piece together this story. Through this book we learn that Amelia was considered a tomboy from an early age. We see her spunk as she matures. We witness her first meeting with an airplane. Yet the author tastefully weaves the facts in and out of a story. It makes it feel less like forced learning and more adventurous this way. However, I do like the fact that at the end of each story, the children are given a timeline of main and important events in the young patriot's life.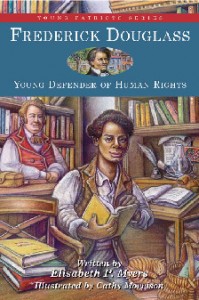 Frederick Douglass life was very inspiring. I knew who he was but knew relatively little about him. I still know relatively little but this book was a fun start. His story, in particular, helps children today understand how different things were between blacks and whites back in the 1800's. You learn that slaves were not given permission to read. You learn that some families treated their slaves very well (almost like family) and some families treated their slaves absolutely horribly. I think Douglass' story was particularly compelling because he lived under both types of masters before making his way to freedom. This is a very intriguing and wonderful life story.
I cannot recommend these books more highly. I found them balanced, historically speaking. I found them entertaining and engaging. I would have loved reading them in my early teens but even still I enjoy them! And I hope my kids do as well! (Fingers crossed.)
Carrie comes by her book obsession honestly, having descended from a long line of bibliophiles. She blogs about books regularly at Reading to Know.