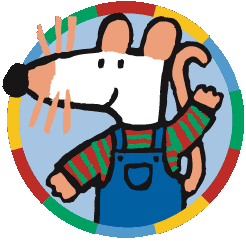 We love Maisy around here. Maisy, brain child of Lucy Cousins, was our first "cartoon character" that we latched onto. (You'll recall my love for baby books using real pictures.) I didn't mind Maisy though because Maisy was cute. Simplistic, original, colorful and fun! Maisy has it all.

Candlewick Press recently sent me a stack of Maisy materials to peruse and review. My son had so much fun going through this package of books. My son is 2 and therefore the perfect age for this little mouse. However, he enjoyed every single Maisy product we received, on down to the Maisy stroll-along books designed to be clipped to your baby's stroller for traveling entertainment.
I like Maisy because the stories are simple and easy to follow. They are bright and colorful without a lot of detail. This helps to make the books "easy on the eyes" for younger children who are still developing in their cognitive skills. The stories all deal with topics that kids can readily identify with, such as shopping for groceries, going to the doctor, and playing in a kiddie pool. This is one mouse that I feel very comfortable supporting. Upon receiving these books and seeing how much my son loved them, I promptly went out and purchased some additional Maisy books for our home collection. He is consistently excited to read about Maisy and her friends on a daily basis. This is a series I can get behind.
If you are looking for something cute and fun to share with your little one, or young kids in your life, go with Maisy. This mouse is sure to delight.
Carrie comes by her book obsession honestly, having descended from a long line of bibliophiles. She blogs about books regularly at Reading to Know.