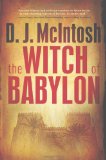 It's 2003, and the National Museum of Iraq in Baghdad is filled with looters having a hey-day stealing priceless treasures. A Mesopotamian scholar, Samuel, and 2 Iraqi friends are trying to save what they can–in particular, a certain clay tablet. But slipping through the chaos is an assassin bent on gaining possession of the tablet himself.
Fast forward several months. Art dealer John Madison is recovering from a terrible car accident that killed his older half-brother Samuel. John goes to a party at his friend Hal's, where he gets embroiled in a mystery. Apparently Samuel was able to rescue the clay tablet and have it shipped to himself, but while John was in hospital, Hal picked it up. Now Hal is dead of an apparent overdose, but John knows he was murdered, and the killers are now after him. To save himself, he must first find the tablet. Hal has left a series of puzzles leading to its location.
The clay tablet contains a biblical prophecy (it's supposedly the book of Nahum) but unlike the text we have today, the tablet itself contains certain clues that, Samuel and 2 Iraqi friends believed, would lead to unimaginable treasure hidden beneath the desert for millennia. Twists and turns add more people to the mix, and John must decide whom he can and cannot trust, including 2 Iraqi friends of Samuel's. His life depends on his decision.
The Witch of Babylon
moves from New York to Baghdad to Ninevah, and has pretty much everything–medieval alchemy, recent technology, international travel, witches ancient and modern, mysterious origins of legends, and more. From the art galleries and bars of New York, to the twisting streets and alleys of Baghdad and the modern city of Mosul, the action is fast-paced but at the same time, the protagonist is a realistic, down-to-earth guy. Author D.J. McIntosh has done her homework, and along the way you manage to learn something about ancient cultures and history as well.
The Witch of Babylon
is a gripping read, a perfect can't-put-it-down suspense novel that takes you from your armchair to exotic locales. I really enjoyed it. I was happy to notice that it's part one of a trilogy; I was also happy that it didn't end in a total cliffhanger. (I hate trilogies like that, and I refuse to read them until all are published, because what if something happens to the author and you never find out what happens?) I'm looking forward to Books 2 and 3.
I'm thrilled to say that one of you can win a copy of your own. Just leave a comment to enter and tell me:  Have you ever read the book of Nahum? We'll announce the winner on October 31.
The Giveaway is Closed.

The winner of You Don't Know Me is #17 Stephanie. Thanks to everyone who shared their choice for a "witness protection name"!
Elizabeth has read the book of Nahum. She's never been to Ninevah, but she does have friends from there. Learn more at her blog Planet Nomad.