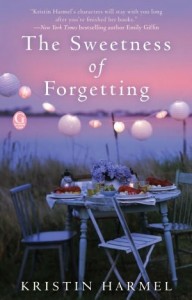 I have a young teen daughter. I am the primary caretaker for my grandmother, who has dementia. I recently lost my mother. These are three major themes in The Sweetness of Forgetting which made it resonate so strongly with me. Reading a novel that contains hard and serious issues in your current circumstances is sometimes no picnic. But Kristin Harmel somehow made it seem as if a friend who is experiencing what I am is just conversing with me — not heavy, not depressing, not preachy, just a chat (read more about these similarities at my blog in "Art is Imitating my Life").
And if you don't have a teen daughter, you certainly were once a teen daughter (assuming you're a woman). If you've never quit law school to support your husband, as protagonist Hope McKenna-Smith did, to support her husband whom she's recently divorced, and then moves back to her hometown to run her family's bakery, you've likely had some sort of career or personal identity confusion, be it a major change in college or the transition from working woman to stay-at-home mom.
I haven't read any of Kristin Harmel's novels, so I don't know if she seeks to connect with her reader, but that's the way I read this novel.
BUT aside from all that, this novel is a wonderful suspenseful romance that spans a generation. As her grandmother's memory and health declines, she begins calling Hope's daughter Annie "Lenore." No one knows who Lenore is, and Rose isn't saying. On a rare crystal-clear day, Mamie gives Hope a list of her family members, and tells her to go to France to find them. Hope doesn't know anything about her grandmother's life at this time, only that she met her husband in Europe during the war, and came to America with him at that time.
The second half of the novel is full of family secrets revealed, first love and lasting love, in wonderful settings, and I couldn't turn the pages quickly enough to finish.
I am so happy to offer up a copy of The Sweetness of Forgetting to one of you. Please leave a comment if you are interested (U.S. residents only). We'll announce the winner in our giveaway column on October 17.
Don't miss a thing: Check out our current giveaways. Subscribe to our feed. Follow us @5M4B on Twitter or on Facebook.