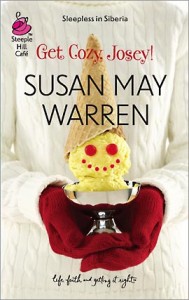 I like to think of myself as Lizzie Bennet from Pride and Prejudice: confident, poised, articulate. In truth, I am more like Josey Anderson. I have such lofty goals for being the perfect wife and mother, but inevitably, I bungle something!
I first met Josey Anderson when she traveled to Russia in Everything's Coming Up Josey
, and I followed her back to Russia in Chill Out, Josey!
as she faced the challenges of marriage and pregnancy far from home. In Susan May Warren's latest book, Get Cozy, Josey!
, Josey steps up to support her husband by following him to Siberia. With two young children and primitive living conditions, Josey strives to be the wife, mother, and friend that God wants her to be.
These books are so fun to read. The humor is light; the message is upbeat. What I enjoy most about these books, however, is seeing myself in them! I have never lived without indoor plumbing in a remote corner of the world; but, like Josey, I strive to do what is best for my family as a wife and mother. While I dream big, I often fall so short. I am sure many of you have experienced this as well (at least I hope I am not alone). Laughing at Josey's experiences felt a little like laughing at my own foibles. Like Josey, I must remember to forgive others, forgive myself, and then move forward while cherishing my many blessings.
I encourage you to read these books. If you are interested in reading the first chapter of Get Cozy, Josey!
, click here. You can also visit Susan May Warren's website to win a Get Cozy Gift Basket filled with fabulous treats.
Additionally, we have FIVE copies of Get Cozy, Josey!
to give to our readers. Please leave a comment if you would like to win. We'll announce the winners next Wednesday.
Lauren is a wife, a mother of two, and an avid reader. She blogs at Baseballs and Bows.