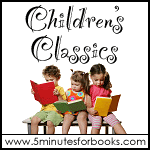 Welcome back to the second edition of Children's Classics. Last month people posted such wonderful recommendations in our post on chapter books that I can't wait to read everyone's favorites in this category.
You can simply post a review, or you can use any or all of these questions to prompt you:
Would you recommend the book? To whom?

If you wouldn't recommend it, why do you think it's been so popular?

Has your child recently discovered a classic author? What is his or her perspective on the differences in classic and contemporary children's writing?

Have you recently shared a childhood favorite with your own child? How did you each respond to it?
Coming up in future editions we will focus on Newbery Medal winners (October 14) and Caldecott Medal winners (November 11) — each from any year, assuming that this designation will gain them "classic" status.
Also, stay tuned later today for more information (and new buttons) for our two new features, Kids' Picks which will take place next Tuesday, September 16, and our fifth Tuesday feature, "I Read It!"
I hope you'll click around to see what everyone else is reading. It's helpful if you put the author or the title of the book in parenthesis as a reference when you link up. Also, please remember to link directly to your post, not your main blog page.
Links are closed. Check out the next opportunity to participate at our Join In page.
Children's Classics Participants
Powered by… Mister Linky's Magical Widgets.