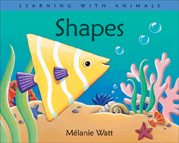 I recently received some of Melanie Watt's baby board books from her series, Learning with Animals, published by Kids Can Press. My son carried these books around from room to room after we received them. One of the books that we received was the Shapes with Ocean Animals which was a huge hit considering our present fascination with "Nemo" (i.e., any fish that he sees anywhere and/or at any time).
These books are fabulous. First of all, the illustrations are simple and yet very colorful. I like the way Watt illustrated the book in such a way as to communicate simple concepts without putting so much on the page as to overwhelm the child's senses. Her illustrations are also true enough to life that all of the animals are readily identifiable which is a huge plus as far as we're concerned. I do not like illustrations which make you guess what the animal is. If mommy can't tell whether or not she's looking at a bear or a bunny, we have a problem. These books create no such problems. They are straight forward on every level but teach concepts using the very things that children are so fascinated by — animals!
From polar bears to zebras to puffer fish and pigs – my son loved pointing out and identifying all of these creatures. Because of Watt's charming use of animals to facilitate learning, I feel like I can highly recommend this series. Better yet – we have the opportunity to give away one set of these books, thanks to the generosity of Kids Can Press. They have graciously offered to give away one set (5 books total) of their Learning with Animals series to one very blessed reader. And what do you have to do to win the set? Leave a comment, of course!
In the meantime, whether or not you win this series, you check learn more about them, as well as see other books by Melanie Watt by clicking here.
I think you will enjoy her works, but specifically the Learning with Animals set. If you agree, leave a comment and tell us what is so appealing to you about these books, and one of you (U.S addresses only) will receive a set of all five books. We will announce the winner next Wednesday.
Carrie comes by her book obsession honestly, having descended from a long line of bibliophiles. She blogs about books regularly at Reading to Know.