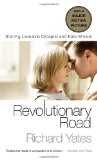 A friend lent me her copy of Richard Yates' Revolutionary Road a year or so ago, and it sat on my shelf, month after month. I decided to pick it up one day during a lull on review books, not knowing anything about the story except that it was made into a movie two years ago starring Leonardo DiCaprio and Kate Winslet in their first movie together since Titanic. Once I got reading, I quickly realized that I was in for a heavy and dramatic read, and I was anxious to see how this disturbing and absorbing novel would be depicted on film.
From the back of the book:
In the hopeful 1950's, Frank and April Wheeler seem to be a model couple: bright, beautiful, talented, with two young children and a starter home in the suburbs. Perhaps they married too young and started a family too early. Maybe Frank's job is dull. And April never did see herself as a housewife. Yet they have always lived on the assumption that greatness is only just around the corner. But now that certainty is about to crumble.
This book truly shook me. The intensity level is high, and there's a fair share of commentary about relationships between husbands and wives in the 1950's in the subtext of the novel. In print, I found the main characters to be complex and sympathetic in their own ways, with individual struggles of self-worth and attempts at finding meaning in their lives. In the film Revolutionary Road, the characters come off as a bit shallower, with the viewer privy to fewer of their personal perspectives and mindsets than in the novel. Like all movie adaptations, there's a sizable amount of condensing happening for the film, and this includes a small alteration of a major plot point. While it does not change the end course of events, in my opinion it is significant enough that the deeper issues are shifted and not as dynamic and profound as presented in the novel.
As opposed to many other book-to-movie transformations, I believe this one got as much right as possible, with even the book's frequent flashbacks represented here seamlessly. I'm left with a slightly different perspective on the story after watching the movie than from reading the book, though. Even while the movie gets to the heart of the story for the most part, I'm of the opinion that the book provides a more thought-provoking and intense experience. The book was more devastating as a whole, but the movie definitely captured some of the despair and hopelessness these characters experience. I think that if a movie could ever fully depict everything in a book, these two actors were capable of portraying these characters perfectly.
There's no denying that the content of this book is not frivolous fare in any sense and potentially upsetting to some, and there's a darkness that is mirrored between the novel and the film. While not a story of lightness and joy, these are extraordinary pieces of literature and film for their depth, intensity and solemnity.
Books and movies are among Dawn's favorite entertainment options. Her kids, whose antics are chronicled at my thoughts exactly, are also a major source of entertainment each and every day.
Check out our current giveaways. Subscribe to our feed. Follow us @5M4B on Twitter.