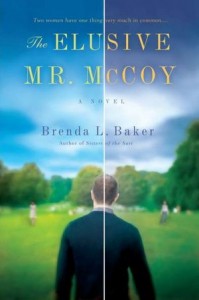 Jason Cheddick, a former police officer and current investigator, is in a coffee shop when a man collapses. Jason had been observing the man. There was something about him that drew his attention, and when he looks for a wallet to find out who he can contact, he actually finds two wallets with two different IDs — one for David McCoy and one for Eric McCoy.The police track down two Mrs. McCoy's, who are at first enemies, but later work together to unravel who Eric/David really is and why he was living two lives.
The double life theme is always intriguing (see below for more of this) and author Brenda Baker lightens up the subject a bit by removing the "offender," The Elusive Mr. McCoy. Each of the wives are able to come to terms on their own with what they loved about him, and what they really know him. He remains comatose, unable to explain or be blamed, which allows the story to remain somewhat theoretical, and yet also more intense, because I wondered, "Will we ever find out what was happening and why?" The answer is that through a thorough investigation, the McCoys do find out the truth, which results in a story that touches on many genres: Mystery/Suspense, Romance, Popular Women's Fiction.
Find out what draws the author Brenda Baker to writing (and reading!) stories like this in her guest column On Reading — Escaping Reality Through Fiction.
There are lots of characters in this novel, and I felt like I knew many of them by the end. This was an easy read and an enjoyable one.
Other novels you might enjoy: