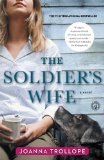 I love Joanna Trollope's novels. She goes so deep into human thought and behaviour, so deep into family life, while at the same time presenting her readers with a great story. Her latest, The Soldier's Wife
, is no exception.
Alexa, a young widow and mother of a toddler, knew when she and Dan fell in love that she was marrying the Army as well. However, as she points out to a friend, you can't really know what it's like until you live it. And right now, she's wondering if she can continue.
Dan is just back from an intense six months in Afghanistan. He doesn't want to burden Alexa with descriptions of what it was like, doesn't want her to have images in her head of a field strewn with body parts, so he's cut her off. He's not really back yet, at least not in the ways that count. Alexa, on her part, is dealing with a lot. They've put her daughter, Isabel, 12, in a boarding school to give her a bit of continuity, but Isabel hates it and has started acting out. Together they have 3 year old twins, one of whom has just had to start wearing glasses. Alexa's been making all the decisions for family life on her own with Dan away, but now she finds herself still doing so but without the freedom to do so, because he's physically present.
On top of this, Alexa is personally frustrated. She worked before her marriage as a language teacher, and she'd love to get back into it. But she knows she can't. If Dan gets a promotion, they'll move again, and of course the twins need her. It's not like Dan can be counted on to pick up the slack of daily parenting. She's just been offered a job, one she knows she'd love and be good at. She can't even talk to Dan about it.
Around them, their family and friends can see the trouble their marriage is in. Dan's father and grandfather (a delightful crotchety, decent, sympathetic pair who adore Alexa and are that proud of their Dan), try to get involved, as do Alexa's parents. Their group of Army friends, dealing with their own set of similar problems, are both a help and a hindrance. But it's ultimately up to Alexa to decide what she's willing to give up and what she isn't, and how far her sense of duty can carry her.
The Soldier's Wife
is Trollope doing what she does best—creating people who are so true-to-life that you feel you'd recognize them if you met them on the street, people that you'd love to sit down for a coffee with, if you didn't feel embarrassed that you already knew all their deepest secrets, that is. If you haven't read her, do yourself a favour and start. I highly recommend this book.
This post is part of a blog tour for The Soldier's Wife
. Visit the official blog tour site to read other reviews, or visit Joanna Trollope's website or goodreads page.

Elizabeth would be a rotten single parent, and she's glad her life hasn't involved sending her husband off to war. Learn more at her blog Planet Nomad.