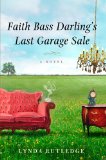 Faith Bass Darling grew up in a mansion filled with priceless antiques, spoiled only child of the first family of Bass, Texas. Now she's in her 70s and has late-stage Alzheimer's. She lost her beloved only son and her husband, not so beloved, and is estranged from her daughter. But none of this explains why she wakes up one morning convinced that God has told her to sell everything in the mansion today, December 31, 1999, the last day of the millennium and, she is convinced, the last day of her life.
The result is a garage sale to end all garage sales. She pays a couple of high school kids in $20 gold coins (they are not impressed and ask if she has any real money) and they drag antique furniture, a collection of Tiffany lamps, a gold-edged Spode china set for 12, vintage jewelry and more out onto her lawn. She posts a hand-made sign and tells everyone, "Pay whatever you can afford, dear." The sale attracts the riff-raff of the town, Faith's neighbour, who's appalled, and Bobbie Blankenship, a childhood friend of Faith's daughter and now an antiques dealer. The deputy sheriff stops by. The lawn is in mayhem, with half the people snapping up $40,000 items for 25 cents, and the other trying to talk Faith out of it.
Faith Bass Darling's Last Garage Sale
follows the lives of several people in Bass on that fateful day. There's Claudia Jean, Faith Ann's estranged daughter, back in town and longing to make peace but still wrestling the demons of her childhood. There's John Jasper Johnson, the deputy sheriff, who was with Faith's son Mike on the day he was killed and who now has a job to do. There's the Episcopalian priest, struggling with how his life has turned out, trying to give Faith Ann the spiritual guidance she seeks. And of course, there's Faith Ann herself, trying to determine what is real and what isn't, striving with what is important and what can be discarded from both her house and from her life as a whole.
Faith Bass Darling's Last Garage Sale
is a story of family, of memory, of secrets, of past hurts and wrongs, of forgiveness and reconciliation. During the course of that one eventful day, various characters take stock of their lives and come to some surprising conclusions. There's plenty of symbolism to sink your teeth into; antique wedding rings and the false romance that's gotten associated with them, and a Louis XV clock from 1772 whose ticking has charmed children to sleep, even though its worth is listed as priceless, literally. Jesus said, "A man's life does not consist of the abundance of his possessions." This is a novel that shows that life and happiness are not necessarily connected to mansions and family heirlooms. Characters are well-drawn and realistic, and even though I occasionally wanted to shake some sense into some of them, I also found myself genuinely liking and caring about them (most of them). This would be a great book for your summer reading list or your book group.
Elizabeth is not totally into garage sales, but she would love to score a Tiffany lamp for $1. Read more at her blog Planet Nomad.