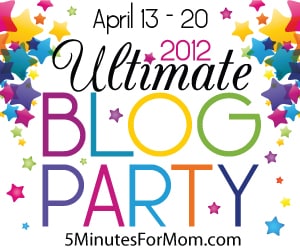 I love the way that so many of you link up each month for What's on Your Nightstand, and how you get involved with our site. I know that some of you are familiar with what goes on at our parent site 5MinutesForMom.com, but some of you might not be aware of this opportunity to connect with other bloggers or to find some new blogs that you might enjoy.
The Ultimate Blog Party is a social media virtual event hosted by 5MinutesForMom.com. It is truly an event that is celebrated across the blogosphere.
Each year there are more opportunities to get involved (even if you don't have a blog but are involved in other social media). This is the sixth year and the dates are April 13 through April 20, 2012. There will be a UBP Twitter Party on Monday, April 16 with the hashtag #UBP12 and a Spreecast Web Show on Thursday April 19.
We'll be joining in here at 5 Minutes for Books, and so I wanted to make sure you knew you were invited too.
What to do right now
Join the Facebook Event to stay in the loop in Facebook.
Add an Ultimate Blog Party badge or banner to your blog and/or write a blog post and invite your readers to party with you.
Consider offering a prize into the massive prize pool and bring more visibility and traffic to your website.
What to do starting April 13
If you have a blog, publish a "party post" on your site. Introduce yourself and maybe include some photos to help people get to know you.
Add your blog "party post" url AND/OR your Facebook, Twitter, Pinterest links to the appropriate Linky Lists at 5MinutesForMom.com
Visit tons of blog posts and leave comments. Also visit Facebook pages and Follow new Twitter and Pinterest friends from the Linky Lists.
Join the Live Twitter and Spreecast events.
And remember to follow @5minutesformom and join the conversation on Twitter with hashtag #UBP12 on Twitter.
Any questions?