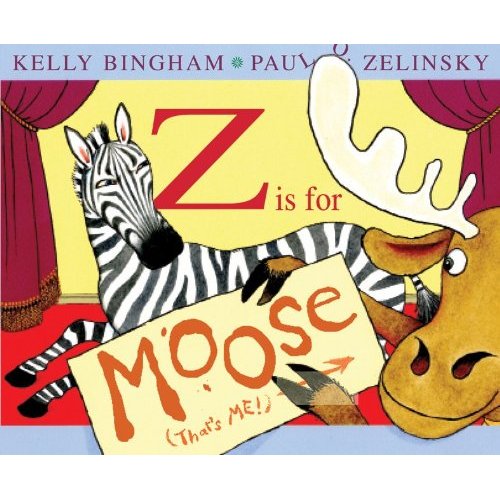 I "know" Paul O. Zelinksy as the illustrator of Emily Jenkins' Toys Go Out books (linked to my post declaring my undying love for the books after I read the second in the series). Those books have a nice cover in color, and a few full-page black-and-white line drawings throughout. The artwork is cool, but the highlight of those books is the sparkling text.
However, in Z Is for Moose, written by Kelly Bingham, Zelinksky's artwork and Bingham's text are seamlessly integrated, creating a one-of-a-kind experience.
Before I had even read one word of it, I was charmed by the illustration on the pages before the title page (which I'm sure have a name, but I know it not). It gives the reader a peek at the characters, like a curtain being raised on a play.
It starts off as your typical picture book. A nice clear picture and "A is for Apple," but what is that zebra doing peeking into the frame? B and C are business as usual, but "D is for Moose" has the moose posing proudly and the zebra referee saying "You are on the wrong page," and pushing him out of the frame causing "E is for Elephant" to say "Look out!"
The moose continues through, trying to find his place, with the zebra continually admonishing him to move. By the time he gets to the M page (making cameo appearances on most of the other pages leading up to it, even saying on L "Here it comes!"), he is shocked to find that "M is for Mouse."
He throws a tantrum, upsetting O, P, and Q, and takes a crayon in his own hand hoof, adding antlers to R's Ring and S's Snake as Zebra works hard to protect the other entries. When Moose realizes that he's not going to be in the book, and it's too late, Zebra takes pity on him and shares his own entry with his friend.
I give this book my high recommendation. It's not for preschoolers only. The same set who enjoy Mo Willems 'and Melanie Watt's work will likely want this book on their "keep forever" shelf.
Jennifer Donovan loves reading and equally loves putting a wonderful book in the hands of an adult or child. She blogs at Snapshot.