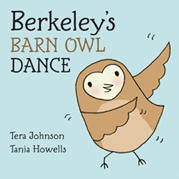 It's that time of year. It's the time when we realize that our precious children are another year older. It's time for a new school year, new teachers, and new friends. While some kids are thrilled about the exciting changes that the new school year brings, others need a gentle nudge to help them spread their wings.
Berkeley the barn owl is no different. She is a lively owl, enjoying the comfort of her own barn with her family. The time comes, however, for the Leave the Nest Fall Fest. As much as Berkeley enjoys dancing at the Fall Fest, she is not ready to leave her nest! With encouragement from her parents and help from her friends, Berkeley learns that there are exciting new places and friends waiting for her outside the comfort of the only barn she has ever known.
Berkeley's Barn Owl Dance
by Tera Johnson is a charming story for any child (it is recommended for ages 3-7), but it is especially relevant to those who hesitate when faced with new adventures. My daughter, who is almost four, has asked me to read this story many, many times. Because she is always reluctant to leave my side for any amount of time, I am planning to remind her of Berkeley's adventure when she heads to Mother's Day Out next week!
When I first saw this book, I was not as attracted to it as I am most children's books. I tend to prefer bright, vivid colors, and the illustrations in Berkeley's Barn Owl Dance
are done with much more subdued browns, greens and blues. After reading the story, however, I couldn't help but think that the depictions of Berkeley and the other owls were adorably drawn, and I think the simple illustrations and peaceful tones contribute to the calming message of the story.
If you have a little one who is afraid of new adventures, be sure to pick up a copy of Berkeley's Barn Owl Dance
today. I am sure your child will enjoy it as much as mine.
Lauren is a wife, a mother of two, and an avid reader. She blogs at Baseballs and Bows.