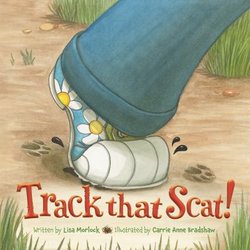 With growing concern that today's children are becoming more disconnected than ever to the natural world, books that bring their attention to the nature all around them are valuable and encouraging. Lisa Morlock, a retired educator, has written such a picture book, with a topic that may make us giggle but actually has real application in our outdoor experiences. Track that Scat! brings readers for a walk in the woods with an adventurous young girl Finn and her dog, who soon come upon telltale signs that they are not alone out among the trees.
The opening pages of the book help define the word scat, but the primary focus is on the "animal fecal droppings" one. Yes, this book talks a lot about animal poop, and while kids might chuckle at Finn's bad luck as she splats into a variety of small piles, they also are getting a serious education on how to identify the types of animals in an environment by both the types of scat and tracks that are visible. Alongside the rhyming story line that follows Finn and her tired old hound dog, are different sections of informative text that share facts about animals such as Eastern Cottontail Rabbits, Red Foxes, and even little Black-capped Chickadees. The tidbits are presented in language accessible to children aged preschool and up, and parents may find themselves learning a new thing here and there, too.
Useful and funny, with cute illustrations by Carrie Anne Bradshaw, this picture book has even me looking more closely at the ground while my own family walks in a nearby park! From avid naturalist families to those who just occasionally take a stroll in a wooded park, Track that Scat! is a literary companion to children's natural world experiences.
Dawn's days are spent teaching preschool, parenting her own crazy trio, occasionally fitting in a conversation with her husband, and every once in a while blogging away at my thoughts exactly.