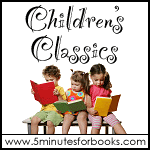 Last month we talked about some of our favorite holiday books for kids and this month we're here to talk about what books we love to give as gifts during those same holidays. I can't say as I've had many opportunities to give children's books to kids. However, now that my son is old enough to start making friends of his own and delights in giving gifts from himself, this is one of the top books that would make our Gift Giving list:


I reviewed The Five Chinese Brothers over on my own site, Reading to Know if you'd like to go and find out what it's about. I think this is a marvelous, historical and magical piece of classical children's literature and I just adore it. In fact, I recently found a copy of at a local used book store and I snatched it right up. Now I'm on the prowl to discover which of our friends does not yet own a copy and I will gift them with it! If you haven't ever read The Five Chinese Brothers, I urge you to it!
In the meantime, I urge you to tell us what classic stories you love to give to others during the holidays, birthdays or any number of other special occasions. We invite you to link up your own blog post below, or leave a comment letting us know what children's books you love to give and why. We do so love hearing from our readers and hope you'll take the time to let us know what books are landing on your gift list these days.
Also, please join us for our other regular Tuesday events:

December 15 — Kids' Picks
December 22nd — What's on Your Nightstand
ONE MORE THING TO NOTE: We will be changing the format of our Children's Classics for the months of January – June to a challenge format. We will have more information about that in the very near future so stay tuned for details!
Carrie comes by her book obsession honestly, having descended from a long line of bibliophiles. She blogs about books regularly at Reading to Know and Reading My Library.