Perhaps you are like me, with several friends who have a few children each, and along come the holidays when you start wondering what in the world you can give to a large family that everyone could enjoy. I've got two suggestions for you, and they're in the form of books that are so classic that parents and children alike will be smitten.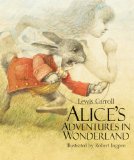 Combining Lewis Carroll's unabridged text and Robert Ingpen's classic-feeling illustrations, this newly released edition of Alice's Adventures in Wonderland is visually stunning and as magical to read as ever. In a size that brings to mind my childhood poetry volumes and classic children's collection books, everything about this book feels delightful. Much has been said about Lewis Carroll's tale since it was first published in 1865, but it is most definitely a story that has stood the test of time. I adore Robert Ingpen's illustrative style, and this beautiful artwork blends perfectly with this classic story.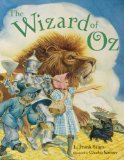 This year marks the 70th anniversary of MGM's film adaptation of L. Frank Baum's wondrous classic, and acclaimed illustrator Charles Santore has released a new gift adaptation of the book The Wizard of Oz. This abridged edition was created with attention paid to the original artwork, and the result is stunning. Featuring endpages and an attached ribbon marker of the familiar dress's blue gingham design, opening this book instantaneously transports you on the adventures with Dorothy, Toto and her new found Oz friends. For readers who may only be familiar with the movie versions, this book may hold some surprising elements from the original published edition, but will surely enchant children and adults alike with it's timeless appeal.
Classics have the honor of holding that title because people continue to flock to them long after their publication dates, and when giving gifts, it seems you can never go wrong with a beautiful classic. Both The Wizard of Oz and Alice's Adventures in Wonderland are sure bets for this holiday season!
Connecting with her kids through books is one of Dawn's favorite pastimes. You can follow her random thoughts and musings on her blog, my thoughts exactly.