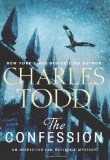 When a dying man walks into Ian Rutledge's office at Scotland Yard and announces he wants to confess to a murder committed 5 years earlier, during the first World War, Rutledge is unconvinced. The story is lacking in details, for one, and there's no body or missing person report. Rutledge is curious enough to begin a follow up. A few days later, the man's body is discovered floating in the Thames with a gunshot to the back of the head.
In an attempt to learn more about the man, Rutledge goes to the scene of the purported murder, a small village east of London, set in the marshes and forgotten by time. Getting information there is more than difficult—the villagers are beyond taciturn, and are unwilling to permit an outsider any access to their secrets. It's obvious they're hiding things and don't want him there, and when Rutledge checks himself into the town's only inn, they are less than forthcoming with information and even threaten him. It takes him some time to even determine that the dead man (the one who confessed) was not in fact the man he claimed to be, and there is still the matter of the confession to deal with. His search leads him to the supposed victim, the man the dead man claimed to be, and the woman they all loved.
Rutledge is determined however, and keeps following any and every lead, driving back and forth to London, uncovering secrets old and new. He must also deal with his own demons, in particular an episode during the recent War that has left him carrying a crippling burden of guilt, not to mention the shame of having been shell-shocked and continuing nightmares. As he meets a deserter, a former Major, and others who were involved, he has to separate out his own feelings from the clues each presents him. What secrets are the villagers hiding, and do they come to bear on the murders?
The Confession
is a classic murder mystery—crisp clues, drama and old skeletons to find and more recent secrets to uncover. The characters are well fleshed-out and I thoroughly enjoyed this book. If you like a good mystery, I highly recommend this one, and I'll be looking for other Inspector Rutledge novels (this is part of a series, but can be read alone).
.
Elizabeth thoroughly enjoys a good mystery, especially one that makes her crave a good cup of tea. Read more at her blog Planet Nomad.