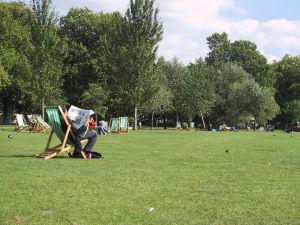 Having been in several levels of employment during my eleven years of motherhood, from full-time employment outside of the home to a full-time stay-at-home status, I've had a lot of practice finding ways to fit in my own interests in different manners. Of course, the biggest leisure activity in my life is reading, and I swear that I get into a major funk when I can't engage in it at least a little bit each day.
For the last four years, my life as a stay-at-home mom was certainly hectic, but there were some natural periods of downtime in which reading could occur. During the blessed hours of one and three each afternoon, the children napped and I was free to choose between the lure of blogging, Facebook, or grabbing my book. Quite often, choice number three prevailed, and the time would fly by. I'll even admit to bringing a book along to the playground on some mornings for those snippets of time when the children played together conflict-free, and I could breeze through five pages or so. I'm not going to minimize the amount of work that I did as a stay-at-home mom, but it did have its advantages in the reading-here-and-there department during the day.
Now that I've returned to full-time work, teaching preschool at a university-based laboratory school, I can no longer grab a few minutes of reading at random times during the morning. In the middle of the day, I do have a period of time when I'm out of the classroom, and when I can stop doing work, I try to grab whatever book is the current read for at least ten minutes or so. There's also the joy of commuting on public transportation, which ideally would provide the best time for reading, though the preschooler and kindergartener who commute with me sometimes put a nix on that. When it's successful, I enjoy every little minute I can get.
Thankfully, being a mother has prepared me well for reading in short spurts. Back in my breastfeeding days, I eventually found a comfortable position that allowed me to both feed the baby and feed my reading habit. Sometimes that lasted for thirty minutes, other times it was a short five. That was just the beginning of this long path of parenthood, and as my children have grown over the years, I've learned that nothing is ever guaranteed. Working or staying home, it doesn't matter, making the time to read has always taken a bit of effort. Right now, I'm trying to accept the new reality and find what works best.
In any case, reading is, and always has been, my favorite habit to indulge. How do you fit it in?
Editor's Note: Dawn is also a regular blogger over at the She Knows Real Moms Guide. A recent column that I think our readers will find interesting is Reading Together Every Day, Really. Check it out, as well as Dawn's other daily blogs for the site.
Dawn is getting better at this whole balancing work/home/family/blogging/reading thing, in tiny increments at least. When she's not sneaking a few more pages, she might be blogging away at my thoughts exactly.