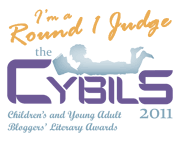 For this week's round-up of Cybils-nominated books, I've chosen three titles that have interested my children and me because of their focus on nature, animals and a unique way of thinking about living versus non-living things. Like many picture books, these are suitable for a range of ages from preschool through early elementary school children.
Lauren Castillo's Melvin and the Boy is as gentle a book as its cover suggests. In this case, Melvin is the turtle who has become a young boy's new pet after being taken home from a local park. The boy thinks he'll be the perfect pet, for he fits his parents' guidelines for size and noise level. But when he doesn't turn out to be so ideal, will the boy do what's best for Melvin? This sweet story really focuses children's attention to how different animals have different needs and helps them be thoughtful about caring for other living things.
While intended for older children, the picture book Butterfly Tree by Sandra Markle and illustrated by Leslie Wu can certainly be appreciated by younger audiences, perhaps with some slight explanations about the process of migration that some animals and insects do in the winter months. The illustrations are beautifully rendered, in soft pastel paint, and the monarch butterflies practically rustle right off the pages at the end. This is the perfect book to read at this time of year when children in colder climates are noticing the absence of the spring and summer time outdoor creatures.
After reading Susan A. Shea's Do You Know Which Ones Will Grow? with both my own young children and my preschool class of three- and four-year-olds, I can tell you that it is a big, big hit. This is a fabulous manner in which to get children thinking about living things and non-living things, and I guarantee a chorus of delighted "No!" shouts when you read questions like, "If an owlet grows and becomes an owl, can a washcloth grow and become a towel?" Pure fun with some bright, light-hearted illustrations.
Though I am a Round I panelist in this Fiction Picture Book category for the Cybils, my opinions are solely my own and are not meant to reflect the final outcome.
Don't miss a thing: Check out our current giveaways. Subscribe to our feed or video reviews on YouTube. Follow us @5M4B on Twitter or on Facebook.
Dawn juggles teaching, parenting, and reading on a daily basis, sometimes hopping back over to give her blog, my thoughts exactly, a bit of attention, too.