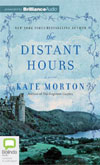 I spent many hours with The Distant Hours and enjoyed every minute of it. At 576 pages (and an audio running length of over 22 hours), Kate Morton is not short on words, and in fact, amidst all the positive reviews for her books, there are those who complain about how long-winded she is. Yet each time I'd drift away from the narrative and think I might agree with her critics, I'd hear a lovely description or insight and immediately be glad that she hadn't slashed down her words.
This is a booklovers' book. It reminds me of The Thirteenth Tale in so many ways: the mysterious gothic feel, a bookish single woman heroine, and the way that books and stories and those who write them and those who read them are all tangled up together to produce a satisfying read.
Edie Burchill's life is in a state of flux. She and her boyfriend have recently broken up. Her mom, with whom she has a strained relationship, doesn't even know about it. But when she ends up at Milderhurst Castle, the home of Raymond Blythe, the author of her favorite childhood book, she remembers being there before. Her mother claims she hasn't, but in spite of the fact that Edie is supposed to be at work, she stays on to find out more. After meeting the elderly Blythe sisters who still live there, including the youngest sister who isn't quite right, she ends up being asked back to write the forward to the anniversary edition of their father's book The True History of the Mudman.
This is a novel of secrets and is deftly told as the story is told by interweaving the past with the present. I wondered if all of my questions would be answered by the end and for the most part they were, but I was so wrapped up in the lives of the characters that I didn't care so much about the who, what, where, when and how by the time I got to the concluding chapters.
If you like character-driven mysteries — unlocking the drama of the human soul — then you definitely need to read Kate Morton, especially this one that muses on the place that books have in the life of a child.
AUDIO NOTES — I was first introduced to Kate Morton via the audio version of The Forgotten Garden, also narrated by Caroline Lee. Her sweet, expressive voice does not call attention to itself, but did firmly root me in the English setting. She has to be good if I can look forward to 22 hours of listening! When I pay for audiobooks (as opposed to review copies as this one was), I tend to go for a lot of bang for the buck, meaning longer is better, and in that respect, there's a LOTTA bang for the buck here, and I enjoyed this, my second Kate Morton novel, even more than the first.
Jennifer Donovan loves a good story, whether delivered on screen, in the pages, or via her earbuds. She's trying to psych herself up to share more of her own stories on Snapshot.