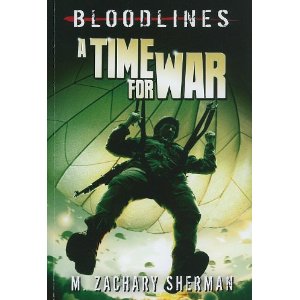 Seeing "blood" and "war" in the title of a book immediately makes me think that it's not the sort of book I'd want to read. But in this case, "Bloodlines" refers to the series that look at the different military careers of one particular fictitious family.
A Time for War tells the story of PFC Micheal Donovan, a paratrooper on a mission to secure a stronghold for the Allies in France. The story drew me in right away — a dramatic exit from the plane, then hiding out and coming face to face with the enemy. But what makes this book stand out is the format — a mix of story/narrative, graphic novel-type pictures, and fact sheets.
For example, after the first bit of the story, there's a two-page spread on the aircraft carrier which includes pictures, facts (such as the fact that plane was often used to transport hospital patients). There are other nonfiction sections about guns and a specific battle.
The narrative is illustrated with excellent comic-book style graphics panels.
The end of the book features a family tree of the "bloodlines" family, indicating what type of military service the other family members did. There are other books in the series, and more to come. With amazon's 4 for 3 offer, you could get all four titles for about $21. I think it would make a great gift for the military enthusiast, 2nd or 3rd grade on up. In addition to A Time for War (World War II), check out Fighting Phantoms (Vietnam), Blood Brotherhood (Korean War), and Control Under Fire (Afghanistan).
Jennifer Donovan is not a war buff, but she does get excited about cool books like this that get kids interested in reading and learning. She blogs at Snapshot.