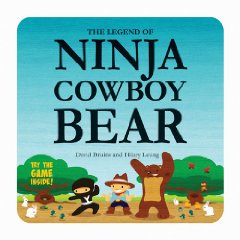 "Once upon a time there were three friends: a ninja, a cowboy, and a bear."
The Legend of Ninja Cowboy Bear
is a story about three very close friends who loved doing everything together. Although they enjoyed being with one another, they were very different with different sets of skills and talents. The three friends forget this for a time and implement a series of contests to discover who is really better than the rest. The three become more and more frusterated with one another until they realize that their differences should not drive wedges between them. Rather, their differences compliment one another very nicely. Once they realize this, their bond of friendship is quickly restored and the three are fast friends again.
Written by David Bruins and illustrated by Hilary Leung this is a clever little book to teach children that differences between people can be counted as good things and not as evil. Instead of focusing on what made each of the characters in this book better than the others, they conclude that they are all unique in their own ways and become content in that. This book is sort of a modern fable in favor of diversity.
Published by Kids Can Press, it also includes a game at the back of the book for children to play called (surprise!) "Ninja Cowboy Bear." This is a small and tidy little book with a big message. And a very cool title.
Carrie comes by her book obsession honestly, having descended from a long line of bibliophiles. She blogs about books regularly at Reading to Know and Reading My Library.