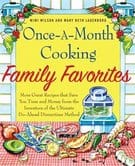 Back when I was a new bride, the Once-a-Month Cooking plan started by Mary Beth Lagerboard and Mimi Wilson. Although I never did a full one-month plan, I used the recipes in their first book to prepare and freeze some meals, especially helpful when I had a toddler underfoot who stole all my brain cells and creativity (now I have a 5-year-old and an 11-year-old stealing my brain cells and creativity). They also taught me the art of freezer cooking, and ever since then I've often doubled up recipes so that I could freeze one for later. I learned what freezes well and what doesn't.
Now they are back with Once-A-Month Cooking Family Favorites: More Great Recipes That Save You Time and Money. The recipes are new, and the plans are new. In addition to two standard four-week cycles, there are two standard two-week cycles, a two-week gluten-free cycle, a summer two-week cycle (relying heavily on grilling), and a gourmet two-week cycle.
I love the look of the recipes, and the one I tried out (Chicken Dijon) was a family pleaser.
Have you ever done stock-up cooking? Would you like to try? If so, I highly recommend that you give Once-A-Month Cooking Family Favorites a try. The authors lay out step by step, from shopping, to preparation, to putting the actual meal on the table.
Even if you don't want to make 10 or 40 meals at once, this is a great cookbook full of family favorites. It also can teach you, like their first cookbook taught me, how to cook once and eat twice, using either these freezer-friendly recipes, or venturing out to try your own.
For more information (including a FREE one-week cooking cycle to try out), visit Once-A-Month Cooking.com. You can also network via their Facebook page.

Jennifer Donovan never brags on her housekeeping skills, but she is pleased (most of the time) with her consistent efforts at keeping the fridge stocked and getting dinner on the table. She blogs at Snapshot.