Each year since 2006, large groups of dedicated book bloggers have worked together on the Cybils Awards, recognizing quality literature for children and young adults. Both Jennifer and I are extremely honored to be a part of the Cybils judging teams again this year, she in the Middle Grade Fiction category, and me over at Fiction Picture Books.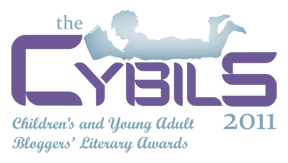 The nominations are rolling in, and we're working hard to get our hands on the books that readers like you have put forward. We plan to bring you periodic reviews of the books that stand out to us, and hopefully you will find books that might interest you and your own children. If you want to learn more about the Cybils, check out the official FAQs, the rules for nominating, and best yet, you still have another week to get your own nominations added, using this form. Now, how about a few picture book nominations?
Bob Staake's illustrations routinely call to my children from the library bookshelves, and with his February release Look! A Book! we found our favorite of his yet. Mixing rhyming introductions with gloriously busy illustrations across each two-page spread, children are encouraged to find specific wacky things hiding in the pictures. When my children and I first read it, we were surprised to find a list in the final pages of additional items that could be anywhere in the entire book, and for weeks, we returned to this gem of a book again and again to do more searching. Bob Staake has three huge fans in my family!
Combining graphic novel style illustrations and layout with a picture book storytelling manner, John Rocco brings young readers Blackout, the story of what happens when the entire city loses power and one family is suddenly unable to continue their separate activities cooking, working on the computer, watching television and talking on the telephone. But it's summer, and the oppressive city heat forces the family out of their apartment and up to the roof where the real magic of a city blackout is soon discovered. Be prepared for some gorgeous pictures that captivate both children and the adults reading to them!
I have to admit that I have mixed feelings about the newest release from Eric Rohmann, a much darker than usual picture book. The book opens with a young boy Gus cuddled up with his beloved, but very old dog Ella under a full moon. The next page brings sadness as Gus is facing life without Ella. He doesn't even have the energy or spirit for trick-or-treating, but he does it anyway, reluctantly pulling on a skeleton costume and heading out on his own. The evening brings some scariness, some adventure, and some tenderness, too. I initially felt uncomfortable talking about this story with my five and three year old children, but they weren't bothered by it at all, and my five year old daughter even declared the story "so beautiful." One could say that she's a child who's in touch with her emotions (as in, she quite often expresses them with gusto), and she really took to heart the book's main message of "A promise made under a full moon cannot be broken." I doubt this is a book that I will bring into my preschool classroom, but I think it works better with one-on-one readings with a family member who can lovingly explain the emotional subtext.
Thes books are Cybils nominees in the fiction picture book category, for which Dawn is proud to be a round I panelist. You can still nominate your favorite book that was published between October 16, 2010 and October 15, 2011.
Don't miss a thing: Check out our current giveaways. Subscribe to our feed or video reviews on YouTube. Follow us @5M4B on Twitter or on Facebook.
Dawn happily indulges her love of picture books with a crew of young kids every day. In her "free time," she also happily blogs away at my thoughts exactly, where she tries to keep a regular focus on picture books with the feature friday's five.