I'm a book snob, and I'll be the first one to admit it. For my own personal reading, my preferences aren't too narrow, but I have certain genres that I seem to stick with. When it comes to what I read with my young children, though… that's a different story. Picture books may have only 32 pages, but I there are strong differences between high-quality selections and the vast amounts of not-so-good-quality books that are published each year. For me, it's all about the right mix of text that is entertaining and makes children think, along side illustrations that are attractive and appealing to young kids. And, it can't be cheesy. Too much cheesiness, and I feel like the author is just taking a cheap route in an attempt to get his book sold.
Then there's the celebrity author factor. To me, authors are celebrities, but I'm not referring to the fact that anyone who knows children knows the names Eric Carle, Tomie dePaola, and Mo Willems. They are true celebrities in my eyes, but I'm talking about the phenomenon that sees folks like Madonna, Spike Lee, and Jeff Foxworthy officially sharing the title of Children's Author with the aforementioned geniuses. (And yes, I purposefully did not link to their "works," so you'll have to take my word for it or Google it yourself.)
In my admittedly snobby opinion, not just anyone can write a good book for young children. But, it's easy to see that a well-known celebrity name can get a book picked up by big name publishing houses. Sigh. I'm not alone in my opinion, as some book bloggers have even gone so far as to create a group decrying the presence of celebrity authors.
My opinion is pretty firmly intact on this topic, but then I went to last week's National Book Festival and happened over to the tent where Julianne Moore was talking about the picture books she has authored over the last few years about a character named Freckleface Strawberry. I learned that she has written three books featuring this character based upon some of her own childhood experiences, growing up with that very nickname. Covered in freckles and with bright red hair, the character itself interested me as the mom of a five year old daughter who cannot go out in public without multiple comments about her VERY red hair. But… the celebrity name in the author line gave me pause.
Don't get me wrong, I personally love Julianne Moore as an actress, but just because she's good at that artistic expression, who says that she has any credentials to write a picture book?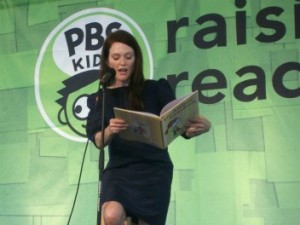 Then I listened to her talk at the National Book Festival. (Hopefully, the video will go up on the site soon, and I'll link to it!) I found myself nodding my head along as she talked about her lifelong love for reading, how big a role literature has played in her children's lives, and the benefits that come from a literacy-rich childhood experience. She responded to some questions from children in the audience with recommendations for books, both classic and contemporary, that I value and appreciate. She spoke confidently and passionately about reading, and the only mention she ever made to the business in which most folks know her from had to do with the explanation she gave for why her hair wasn't actually red that day. (She's currently filming a movie and had a rinse in her hair to darken it for the role.) Celebrity name aside, she fit the role of children's picture book author quite well, and when we saw her later in the day reading her first book, she even impressed me with her ability to make her story come alive.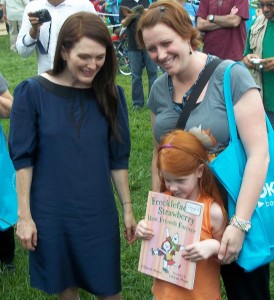 I can't say that I'm completely dropping my general opinion about celebrity authors, but I'm counting Julianne Moore as an exception to the rule. Now that I've read the three picture books she's written, I'm happy to report that had they a different author's name on the cover, I'd still be saying that I enjoy reading them with my children. The illustrator who chose to provide the artwork (without knowing the name of the author, mind you, an important detail I learned during her talk), is LeUyen Pham, an accomplished illustrator whose style is lighthearted and immediately recognizable. And, for my daughter, last weekend marked the day that she met the author who created one of her new favorite book characters, not a Hollywood star.
When she's not hanging out with famous stars or authors, Dawn is usually teaching preschool, folding laundry or blogging at my thoughts exactly.