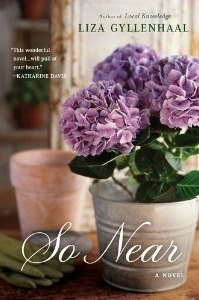 The phrase sounds so cliche– every parent's worst nightmare. But, in So Near, the new novel by Liza Gyllenhaal, it's the most fitting way to describe the heart-wrenching plot the unfolds.
Jenny and Cal Horigan have a delightful happiness with their lives. They live in their hometown, a tight community where Cal's business thrives under the family name and they have family nearby as they raise their toddler daughter, Betsy. Cal suspects that the downturn in the economy will soon cause some troubles for his business, but he has hopes that they'll be able to bounce back. He could never imagine that his life would be drastically changed, in the most heart-breaking way possible.
No one wants to imagine what it would feel like to lose one's child. Worse yet, to lose a child in an accident that could possibly include factors of your own fault, factors that can never be proved or dismissed. What would that do to a parent's life? A couple's marriage? So Near explores this terribly painful premise, told in chapters of alternating perspective between Cal and Jenny, each carrying a load of personal guilt and unable to express it to anyone. Readers follow along with the toll this loss takes on their individual psyches, as well as on their relationship.
Written in a simple and straightforward tone, the reading is quick, but intensely emotional. Gyllenhaal skillfully creates two distinct narrators in Jenny and Cal, and though painful to read, their stories are engaging and had me hoping for comfort to find them.
Dawn can often be found with a book in her hand and a box of tissues by her side. When she's not being Mom, or singing songs in her preschool classroom, she's blogging away at my thoughts exactly.