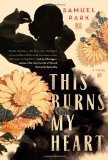 Soo-ja Choi is in many ways a typical young Korean woman of her time. Her father is rich and generous so she is spared much hard work, but she is raised to not seek her own happiness, but the happiness of first her parents, and later her inlaws, husband and children. But Soo-ja is beautiful and ambitious, and she wants to go to Seoul to be a diplomat. She's accepted into the program but her father refuses to let her go. Soo-ja devises a plan; she'll marry Min, a man her parents don't like, and together they'll go to Seoul.
Soo-ja feels she is tricking Min, but things don't work out like that. In many ways, This Burns My Heart
is a cautionary tale about marrying the right man. Min turns out to be the one tricking Soo-ja, who is soon trapped in a loveless marriage working as a virtual slave for her inlaws, in particular her father-in-law, a man without mercy who doesn't hesitate to destroy anyone or anything who stands in his way. Min reveals himself to be spineless and undependable.
Before she marries, Soo-ja meets a young medical student named Yul, and participates with him in a student demonstration against government brutality. She's attracted to him, but turns away his proposal because of her dreams of being a diplomat. Yul turns out to be the true love of her life, and he appears at all her major life events—when her daughter is lost, when she is in desperate need of money to buy land, etc. Yet Soo-ja consistently rejects him because she accepts that she must live with the consequences of her choices. She grits her teeth and refuses to complain; she lives with Min as best she can, especially because of their daughter. When Yul and his selfish, manipulative wife enter their lives again, Soo-ja has another decision to make.
In the years following the Korean War and the division of the country into North and South, Korea was still very traditional, but within a short time great changes had come, and the pieces that have led to its current place as a developed modern nation were falling into place. Author Samuel Park gives good insight into Korean culture, deftly capturing the sights, sounds and textures of the time, as well as showing the changes that are taking place. It's the sort of book that pulls you in, a feast for all the senses.
This Burns My Heart
is in many ways a love story, and the hero and heroine go through many trials before they can be together. But it's so much more—a story of familial love and sacrifice, of cultural pressures accepted, of feasts and famines both, of character revealed through adverse circumstances. I thoroughly enjoyed this book.
Elizabeth loves that books can take us to times and places we couldn't otherwise visit. Read more of her thoughts at her blog Planet Nomad.