No, it's not a new movie or a new book. It's just me and I'm in my own, private kitchen that isn't all THAT exciting (although it is a nice kitchen).
I'm here to talk about food. Mostly, I'm here to talk about things you can do with food to further expand that waistline of yours. Yeah, that's right. If I'M going to review cookbooks and deal with extra calories, you can bet I'm going to want to share. It eases the guilt.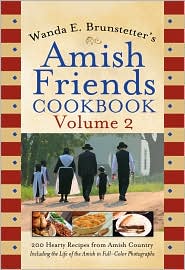 First, I introduce to you Wandra E. Brunstetter's Wanda E. Brunstetter's Amish Friends Cookbook Volume 2
. (I haven't seen Volume 1
but if it's anything like Volume 2
I don't want to just because everything in this book looked and was far too appealing.) You might be familiar with some of Brunstetter's Amish-related fiction books. The cookbook is a compilation of recipes from the different families and friends that she knows in various Amish communities across America. The only funny thing about this book is how many times the ingredient "baking mix" was used. (What IS that? Can someone tell me? I'm always guessing.) I would think that most of the recipes would have been from scratch, instead of including mix ingredients but that's not so! Anyway, which of the following sounds good to you:
Applesauce Spice Puffs?
Chocolate Pecan Cheesecake Bars?
Swedish Butter Cookies?
Oh wait! Ever heard of Boyfriend Cookies? If you need any tips, check out this book! (Think oatmeal, peanuts and carob chips which I happen to like very much.)
Or perhaps something more substantial and solid for you such as:
Crispy Baked Potatoes?
First-Course Pie? (I don't think I'd need a second course.)
BBQ Beef Sandwiches
This is a basic down home kind of cookbook. It's comfort food to the max. It is . . . too good.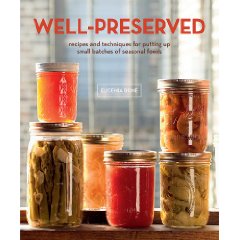 In order to try and feel a little healthier after thoughts of Bacon-Wrapped Chicken (with cream cheese added in, oh yes and oh no!), I moved on to Well-Preserved
which I feel that I am. This book is perfect for my family because it is as it describes itself, "recipes and techniques for putting up small batches of seasonal foods." Since we are a family of four, small batches is what we're all about. This is a book for people who love Farmer's Markets and eating local produce. This is for the person who feels the urge to overbuy in order to keep and maintain the goodies for as long as humanly possible.
This book is awesome! First, author Eugenia Bone tells you how to preserve everything from meat to veggies in the most healthy, sterile manner. Then she provides you with a host of recipes for you to choose from when you get around to using those canned foods. It's the perfect blend of practicality and flair. Very well done. For the past few years I've put away my own strawberry and raspberry jams, plus we always freeze blueberries and cherries, but I've been puzzled by things like peaches and beef. She takes the time to explain the various methods and ways of cleaning and preserving foods so that you are handling them in a safe, enjoyable and healthy manner. There is less confusion surrounding my peaches now. I also have a few new recipes to try out with my frozen cherries which I'm excited about.
Well-Preserved
is an awesome, self explanatory book that gives one hope in the kitchen. I don't feel quite so clueless and I have renewed energy for finding ways to save food without it spoiling in order that we might enjoy it more fully. Thanks, Eugenia, for the tips!
Carrie comes by her book obsession honestly, having descended from a long line of bibliophiles. She blogs about books regularly at Reading to Know.