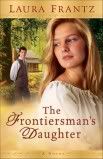 I am not an outdoorsy kind of girl. I can handle a hike on a nice day, but I need facilities and air conditioning in the vicinity. I have camped before, but it was about 25 years ago, and I have no desire to repeat the experience. Having said that, I have great admiration for women who enjoy more rugged activities, and I truly marvel at the grit and determination of women in the pioneer era.
In Laura Frantz's novel The Frontiersman's Daughter
, Lael Click is the daughter of one of the first pioneers to settle in Kentucky. Lael lives in a wooded Kentucky area near a settlement that is surrounded by Shawnee Indians. She loves the land, and she has a particular interest in the local plants and herbs and their medicinal uses.
Although this story is set in the second half of the 1700's, Lael's father is no different than the fathers of today. When he doesn't approve of Lael's suitor, he will do anything to separate the two lovebirds, even sending Lael back to Virginia to a boarding school. After many years, Lael returns from Virginia to find that many things have changed, except for her love of the Kentucky land and her desire to care for the people using her medicinal knowledge. As a woman struggling to live independently, Lael works to survive on her own, and to make sense of the questions she has about a certain Shawnee Indian, a new handsome doctor, and even about God.
I really enjoyed The Frontiersman's Daughter
. I admired Lael, and I felt that I accompanied her on her journey (from the comfort of my couch). Laura Frantz's own ancestors followed Daniel Boone into Kentucky in 1792, and her appreciation for Kentucky is evident in the story. Historical fiction is one of my favorite genres, and this story allowed me a glimpse of a time and place I had not visited in other novels. Although I approved of the ending, I felt there were a few questions left unanswered. Perhaps Laura Frantz will continue this story. I know I would read it.
Lauren is a wife, a mother of two, and an avid reader. She blogs at Baseballs and Bows.