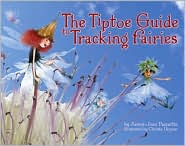 The Tiptoe Guide to Tracking Fairies

cover art does NOT do justice to the inside of the book. I don't think I've ever said that before but it's true. This is one of the most unique books I've ever seen and the outside doesn't really explain what you can expect to find inside. The Tiptoe Guide
is a blend of artwork and photography. The book is an adventure that children can go on to find out where fairies live. Basically, it's a fairie tracking point, pointing out the signs for where fairies live. Tulips, for example, are just right for fairies to play hide-and-seek in. Have you checked tulips lately? Maybe you'd better! Where acorns are, there also may the fairies be as they really enjoy acorn meat. If you find empty acorn shells you will know that fairies have been there. Christa Unzner, the illustrator, did a really good job I thought in blending the real photographs with her drawings. My favorite page, if I had to pick, is the one where she incorporates the chipmunk into the work. Fairies, you know, love to ride bareback on chipmunks! (Well, if you didn't know, now you do!) Author Ammi-Joan Paquette wrote a magical story and a cute field guide for finding fairies. I highly recommend this book to any one who fairie hunt, or who might like to start!

For something totally cute, check out The Mice of Bistrot des Sept Freres
. (And good luck pronouncing the title!) Written and illustrated by Marie Le tournaeu, this is a story about Parisian mice who want to win the prize for the best cheese soup in France! The introduction to the book gives you the french pronunciations to help you read the book. (If you are learning to speak French, this book will utterly delight you.) We are immediately introduced to Chef Marcel who owns the fancy bistro, The Bistro of the Seven Brothers. It is the "hippest place in Paris." Chef Marcel's children help him make a particular batch of soup but there is a mistake that is made in the process. When the food critic comes to the restaurant and is prepared to declare who makes the best cheese soup, Chef Marcel begins to apologize for the soup and wants to explain what happened to ruin this particular batch of soup. However, by surprise, this soup is declared to be the best soup Marcel has ever cooked up! A happy day indeed. Very, very cute. (Kind of has a Ratatouille
feel to it.)
Both of these books were really fun. They are different and stand out in a crowd. I highly recommend them and hope you'll check them out!
Carrie comes by her book obsession honestly, having descended from a long line of bibliophiles. She blogs about books regularly at Reading to Know.