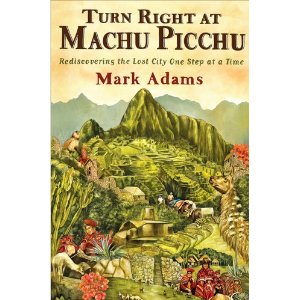 One hundred years ago on July 24, 1911, explorer and Yale lecturer Hiram Bingham excitedly cabled the US from Peru about his discovery of an ancient site, potentially the "lost city of the Incas." That site was Machu Picchu, or "the old peak" in the local language of Quechua, a city of architectural grandeur and ancient temples. Now in 2011, his claim is disputed, and he is accused of stealing historical artifacts and trumpeting up a "discovery" of something that was never actually lost. But there's no question that he turned the world's attention to South America and Inca history, and that he may have done even more—inspired the Indiana Jones stories.
Mark Adams, working a desk job editing adventure travel stories, decided to find out the truth for himself, at least as much as possible. He set out to the Andes to retrace the famous explorer's steps and in the process to study Bingham's life and writings as well as Inca history. The result is Turn Right at Machu Picchu
, a fascinating read which combines a history of Inca-Spainard clashes in Peru, Bingham's adventures in exploring, and a travelogue of Adams' own adventures in Peru, with an Australian guide right out of Crocodile Dundee and Indiana Jones.
I really, really liked this book.
Although I was thankful for the historical parts which gave me background, my favorite parts were the first person travels. I thoroughly enjoyed the story of his travels all over Peru, and the characters with whom he was traveling. First off, there was Australian guide John Leivers, who wears the same clothes every day no matter the weather, always has a machete on hand, and has no permanent address. He just has a different way of looking at the world, due to his experience of it. Then there were the muleteers and cooks, with their coca leaves to combat altitude sickness and bags of sweet snacks and sugary soft drinks, telling crazy tales and responding to events with stoicism and humour. There are the people he meets along the way, both locals and other travelers. I loved the story of the two Quechua kids, asking Adams where he was from. They had not heard of New York or the United States, but they said to him, "Is it true Michael Jackson is dead?" And finally, there is Peru itself; the steep hikes that take the travelers through different climates in the course of a single afternoon, the Inca ruins and the mysteries hidden within them, and the travails of its history. Because, although I have confessed to enjoying the modern bits best, the history is actually fascinating—gory and bloodstained and full of excitement, lots of double-crossing from both sides, fleeing Inca warriors and kings, and pursuing Spainards in search of legendary gold. Adams is a good writer, and he makes his subject matter live, infusing all with a subtle humour and wry turn of phrase.
Turn Right at Machu Picchu: Rediscovering the Lost City One Step at a Time
actually encompasses several trips that Adams takes to Peru, including his account of hiking the famous Inca Trail and even arriving to see the sunrise of the summer solstice and having a mistico in a vest embroidered with astrological signs tell him the morning had been a "major bummer," with "hundreds of harmonically inclined people assembled…and then nothing." (p. 285) And it ends as all good adventure yarns should—with Adams back home, talking to John Leivers, and starting to plan and hope and dream of yet another trip.
Elizabeth makes no secret of the fact that she loves to travel, and if she can't go to a place herself, she wants to read a well-written account of someone else's adventures. Learn more at her blog Planet Nomad.