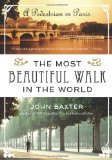 John Baxter, married to a French woman and living in Paris, had no intention of starting work as a tour guide, leading visitors through Paris' many-storied streets and recounting odd anecdotes. But as someone who was interested in history, specifically the history of the place where he lived, he had stored up over the years a wealth of fascinating stories. When a friend who offered tours with her company begged him to step in and save her from a tight spot, he found himself leading a group through the noisy streets, with them hanging on his every word. Before he knew it, he was offering his own tours.
The Most Beautiful Walk in the World: A Pedestrian in Paris
is a fascinating book—half travelogue, half memoir, all interesting. I thoroughly enjoyed my imaginary strolls with him through Paris, learning more about luminaries such as Ernest Hemingway and Napoleon, but also hearing him describe life in Paris at various times. He takes the time to walk us through various routes, almost as if we were on one of his guided tours, pointing out spots of interest and taking time to recreate the feel of the place. He tells us of the cafes of Hemingway and Fitzgerald and Joyce, yes, but also of Picasso's Montmartre and life under the Nazi occupation.
He has wonderful anecdotes. This book is a pleasure to read. I loved his correcting of Hemingway's account of his return to Paris in 1944, on the heels of the retreating Nazis. He quotes Hemingway's account and then adds in the first person account of his neighbour, Madame Dechaux, who watched the whole scene unfold from her first-floor window. It wasn't quite as stirring and romantic as Hemingway described, although I have to admit that his version makes a much better story.
Baxter combines historical snippets and quotes with accounts of his modern-day tours. His wry tone and sardonic comments just add to the fun. This is a book to keep around—you will want to reread it several times so you, too, can drop amusing stories about opium pipes and student apartments and other erudite issues. And, of course, so that you can reread it just before you go to Paris yourself, to discover what for you will become the most beautiful walk in the world.
Elizabeth has to admit that, cliche as it is, she adores Paris! She still remembers the late afternoon light on the cobbled streets. Decide for yourself how banal she is at her blog Planet Nomad.