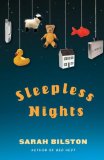 The early days of motherhood are imagined to be full of moment after moment of quiet snuggling in a glider chair with a content and dozing baby upon your chest, sniffing that wonderful new-baby-smell wafting up from your littlest one, right? Well, for Quinn (who prefers to go by "Q") Boothroyd, that image is just a fantasy, and the reality is a bit harsher.
In Sarah Bilston's new novel, Sleepless Nights, Q's beloved new son has introduced her to motherhood by choosing to cry approximately 25 hours a day, just as she has convinced her husband to step out of their regular big-city lawyer lives for a few weeks of vacation, apparently something that is virtually unheard of in big-city lawyer life. At this new point, Q struggles to find peace, first and foremost wanting to learn how to help this crying baby and discovering that in the world of colic, there's just not much that a mom can do but persevere through those tough early days. On top of that, the date on the calendar in which she's expected to return to the professional world looms large in her mind, especially as she begins to realize that her priorities in life have shifted and the thought of returning to the office, along with its pressure-filled, dog-eat-dog environment, literally makes her stomach turn.
Add to the story a subplot involving Q's sister, visiting from England and trying to find her way professionally as well as in the romantic portion of her own life, and you've got a novel full of stories within stories, starring sisters who are not all that much alike, but who each in her turn discovers her own right path. Sarah Bilston peppers this book with spot-on portrayals of lovelorn twenty-somethings, as well as of parents on edge in the face of colic. And personally, having been there, done that, I can say that was the most poignant subplot for me!
With the kiddos heading back to school, is anyone interested in doing some reading just for fun in all those quiet moments? If you'd like to win a copy of Sleepless Nights as part of our Back to School Giveaway, please leave a comment here. (US Residents only please.)
Dawn is beyond grateful to have left her own child-induced sleepless nights in the past, and the only thing keeping her from sleeping these days is her incessant blogging at my thoughts exactly. Stop by and tell her to go to bed already.

This is part of the 2009 Back-to-School Giveaway. We'd love it if you helped spread the word!
Leave a comment on this post as your entry.
This giveaway is open to U.S. residents. One entry per person.
New giveaways will be posted through August 26. Winners will be announced August 31.
Check out the list of the other giveaways in the 2009 Back-to-School Giveaway at the main post.