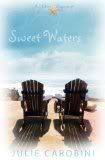 Sadly, summer is coming to an end. If you're like me, you would hold on to the warmer temperatures and more relaxed schedule if you could. Although we can't stop the changing of the seasons, we can always count on a book as a means of escape!
I have often heard of books described as "beach lit", and if there is an author that belongs in that category, it's Julie Carobini. Julie's novels are set in California, and the beach is always a prominent part of her characters' lives. In Julie's newest book, Sweet Waters
, Tara Sweet's broken engagement prompts a return to Otter Bay, California, her childhood home. Tara convinces her sisters to tag along, and the threesome set off in search of a fresh start.
Although Tara remembers Otter Bay fondly, she is soon confronted with her family history. She quickly realizes that her past is full of secrets, and not all citizens of Otter Bay welcome her return. Of course, no beach lit is without a little romance, and Tara can't help falling for Trent, the handsome firefighter. Through it all, Tara questions her past, her future, and her faith.
Sweet Waters
is a light-hearted read filled with family conflict, love, and a reminder that moving on requires letting go of the past while holding on to faith. If you are looking for a book that will help you keep the easy-going feel of summer for a little while longer, Sweet Waters
fits the bill.
As part of our Back-to-School giveaway, we are giving away one copy of Sweet Waters
. If you are interested in winning a copy, be sure to leave a comment!
Lauren is a wife, a mother of two, and an avid reader. She blogs at Baseballs and Bows.

This is part of the 2009 Back-to-School Giveaway. We'd love it if you helped spread the word!
Leave a comment on this post as your entry.
This giveaway is open to U.S. residents only. One entry per person.
New giveaways will be posted through August 26. Winners will be announced August 31.
Check out the list of the other giveaways in the 2009 Back-to-School Giveaway at the main post.