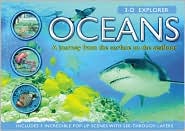 Oceans: A Journey from the Surface to the Seafloor
is one of two new 3-D Explorer titles from Silver Dolphin Books. It's hard to find the right words to explain how cool these particular pop-up books are so I've included a rather large picture detailing the cool factor of each page of these books. Check out this image of the Coral Reef page in this book: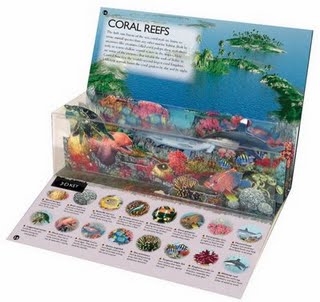 My son went BONKERS when we opened up the Oceans
book. We easily spent a good 45 minutes browsing through the pages. The book starts by talking about oceans, then the various ocean zones (i.e., the rock pools, coral reefs, kelp forests, the sunlit zone, etc.). Down, down, down to the ocean floor you go, all the while learning about which ocean animals can be found in each zone. In between each pop-up page is a page spread with more detailed information about various ocean wonders and information about particular animals. For example, there is some information relating to the dolphin, specifically, noting how many teeth they have and what they like to eat. This book is amazing, engaging, imaginative and FUN!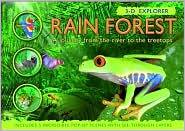 The second book in this series explores life in the Rain Forest
. This book takes you on a journey "from the river to the treetops" also exploring the different layers with 3-D Pop ups to rival that of the Oceans
book. Again- very creative.
We absolutely l-o-v-e these two books. My son has had so much fun pointing out the animals in the pop ups and then locating them in the "3-D Key" provided on the same page, which offers little tidbits of information surrounding these wonderful creations. Exploring the world with these books by Silver Dolphin is a true delight.
That delight can be yours too, thanks to the generosity of Silver Dolphin Books. If you would like to win a copy of these two books for a young child of your acquaintance, leave a comment below. Only one comment per person, please. U.S. Residents only.
Enjoy!
Carrie comes by her book obsession honestly, having descended from a long line of bibliophiles. She blogs about books regularly at Reading to Know.

This is part of the 2009 Back-to-School Giveaway. We'd love it if you helped spread the word!
Leave a comment on this post as your entry.
This giveaway is open to U.S. residents. One entry per person.
New giveaways will be posted through August 26. Winners will be announced August 31.
Check out the list of the other giveaways in the 2009 Back-to-School Giveaway at the main post.