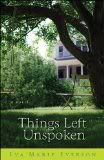 I am a southern girl. Middle Tennessee is my home, and I have no desire to live anywhere else (although I do enjoy visiting other places). With my love of the south comes an appreciation for small towns, rich with history. As we all know, not all of the south's past is pretty. You don't have to dig far to find stories we would rather forget.
In Things Left Unspoken
, Jo-Lynn Hunter returns to her hometown for her uncle's funeral. While she is there, Jo-Lynn's aunt convinces her to stay in Cottonwood, Georgia to help restore the family home. Jo-Lynn's work leads her to discover an unsavory history. Not only were there problems in the town she loves, but in her own family as well. To add to Jo-Lynn's challenges, her marriage is also in need of restoration, and her life is at a crossroads. As Jo-Lynn returns to her roots, she is forced to consider what is right for herself, her family, and her community.
I really liked Things Left Unspoken
, and I recommend it to you. Just looking at the cover made me want to lie in a hammock with a cup of lemonade, and I enjoyed the southern history and the small-town charm. Additionally, the author, Eva Marie Everson, added enough suspense to keep me turning the pages until the mysteries surrounding Cottonwood unfolded. According to the author's biography, this story was inspired by Ms. Everson's own family story. I could feel her appreciation for family, friends, faith, and heritage in her writing. If you appreciate these things as well, be sure to read Things Left Unspoken
.
You may have noticed that another one of our contributors has a love for southern novels. Lisa also read Things Left Unspoken
.
Here is what Lisa has to say:
It is my pleasure to tell you about yet another novel from my beloved Southern fiction genre, Things Left Unspoken by Eva Marie Everson. I don't want to give too much away about the book because…
1. It's really good
2. I didn't know much about it when I picked it up and still I liked it
3. I really liked it
4. It's really good
Did I mention it's really good? Things Left Unspoken has all the usual Southern icons: an old house, family secrets, eccentric characters, and a confusing and convoluted family tree. Throw in some flashbacks and mysterious twist or two, and you have the delightful story that is Things Left Unspoken.
My only real complaints about the novel stem from being confused about who was related to whom and who was whose aunt/cousin/uncle, but, hello, welcome to the South. I just kept reading rather than try to figure it all out. Also, the mystery at the end seemed a little too un-original, but it did not diminish my enjoyment of the novel in the least. Things Left Unspoken is really good, and did I mention I really liked it?
Now you have positive reviews from two of us. Be sure to add this to your reading list today!
Lauren is a wife, a mother of two, and an avid reader. She blogs at Baseballs and Bows.
Wife and mother, Bible teacher and blogger, Lisa loves Jesus, coffee, dark chocolate and, of course, books. Read more of her reflections at Lisa writes….