"She hates to read!" I complained to my girlfriend.
At first, things were fine. Meghan could color, cut, and paste like the best of them. But, when it came time to teach our daughter how to read, struggles became apparent. It was hard to believe—especially when she came from a long line of bookaholics.
Fifteen years later, this same child is getting ready to graduate a year early from college. Her major? English. This same child who cried over silent g's, eventually became our most voracious reader. Her nose constantly stuck in between the bindings of a book, her junior high girlfriends teased her when we put her on restriction from books for a week.
So, what did we do that helped encourage her hunger for the written word? We took a radical sabbatical, a year-long break from soccer, to dancing lessons, which gave us more time to read together as a family—especially after we kicked our TV to the curb. It's been almost three years without a television. It's been one of the best decisions we've made. When the TV isn't constantly on, the kids will actually reach for a book.
Does your family enjoy reading? Do your children spend more time with video games than with books? I've included a few tips to making readers out of all of your children:
Read in the car. When we drive our kids around, they know to bring along a book. One of our children gets carsick, so he's off the hook—he listens to books on tape instead.
Family date with a book. Borders and Barnes & Noble have cafés, which meant Paul and I would grab a mocha and pull up a chair in the children's' section. While their dad and I read books, often they climbed into our laps with a request, "Can you read me this?"
Turn off the TV. Give a child the choice and they'll choose passive entertainment every time. Turn off the TV and hand them a book. We did. As a matter of fact, we've been TV-free for almost three years and our kids have survived.
Be an example. The greatest way to instill a love of reading in your children is to let them see our love of reading first. So, when was the last time your son or daughter saw you read a book?
When our family was Just Too Busy, we didn't have time to read. During our twelve-month time-out, it was miraculous how much time became available for us. Reading became one of favorite family pastimes!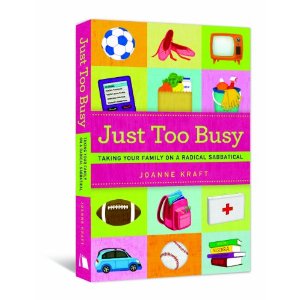 Editor's Note: Read Jennifer's review of Joanne's book Just Too Busy at 5 Minutes for Mom today, and leave a comment OVER THERE to enter the giveaway!
We'd love to hear your thoughts about what you've changed to encourage your kids to read more here or which of these ideas you'd like to implement, but to enter the giveaway, please leave your comment on the post at 5 Minutes for Mom.The giveaway is closed.

Guest contributor Joanne Kraft has a passion for encouraging women. A sought-after speaker, Kraft has been published in Today's Christian Woman, In Touch, ParentLife, Kyria, and P31 Woman Magazine. She is the author of the nonfiction book Just Too Busy: Taking your Family on a Radical Sabbatical. Joanne lives with her husband Paul in the California Sierra Nevada Foothills, where they are raising their four children. Follow her on Twitter @JoanneKraft and visit her at JoanneKraft.com. or GraceandTruthLiving.com
Check out our current giveaways. Subscribe to our feed. Follow us @5M4B on Twitter or on Facebook.