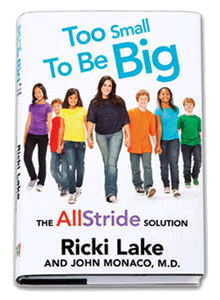 We don't need to see statistics to know that childhood obesity is on the rise. From pudgy preschoolers to overweight tweens and teens, it's pretty obvious. In fact, when I recently saw a large group of high schoolers at an event, I was a little shocked to see that almost none of them were a normal, healthy weight. Several of them were dangerously underweight and many more were packing on extra pounds. What gives? It seems like there's a disconnect between our supposedly healthy lifestyle of this decade and these facts.
With the prevalence of eating disorders and mean kids who can harm children's self-esteem, parents and doctors are often afraid to broach the subject with parents and teens, but the facts are that being overweight does hurt a child's self-esteem, their general well-being (not being able to run and play like a lot of other kids), and their health, with diabetes and other typically adult concerns like heart and gall-bladder disease and asthma become more and more common in kids.
Ricki Lake wrote Too Small to be Big with pediatrician Dr. John Monaco to address these issues, not only from the viewpoint of a mother who was once an overweight teen, but with the years of talk show experience that helped her learn to put the right people together and to ask the right questions
The book is wonderfully informative, taking a non-judgmental approach that encourages parents to take ownership of the problem. It's not a diet plan, but it does educate kids and parents on things like portion control, fast versus slow carbs, and ideas for kid-friendly foods that are also health-conscious for breakfast, lunch and dinner.
It is repeatedly stressed that the All-Stride solution is not a diet plan. There are a lot of reasons that kids are overweight. Oftentimes it is eating the wrong foods, but sometimes it's the right foods in the wrong portion sizes, or the lack of any sort of exercise. Getting moving is a component of the program — ideally one that the whole family will get involved in together.
The book is an overview of the All-Stride program created by Ricki Lake and her team of experts. Someone could definitely get instruction and motivation from the book alone, but I have a feeling that if this was an issue that a family wanted to address, that they'd want to join the website to get additional benefits from recipes and support.
We have a copy of Too Small to be Big to give away to one of you today. Please leave a comment here if you'd like to win. We'll announce the winner on June 1. This Giveaway is Closed.
Check out our current giveaways. Subscribe to our feed. Follow us @5M4B on Twitter or on Facebook.

Jennifer Donovan blogs at Snapshot about life with her family, when she's not too busy reading and reviewing.