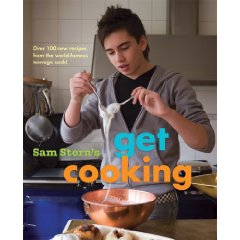 Sam Stern is a teenage chef from the United Kingdom. Get Cooking is his third cookbook. He writes as a teen as opposed to an uptight classicly trained chef, but the cookbook contains some interesting recipes like homemade crackers, homemade cream cheese alongside traditionals such as tomato soup and mac n' cheese.
This might seem a contraction, but I know that in my experience with my young tween, she doesn't shy away from hard or unusual. In fact, she likes to experiment and try to invent her own dishes. I think that Sam Stern's style goes right along with this tendency, getting young people excited about the process.
The book also features lots of pictures of he and his chums having fun (oops, I slipped into his British speak there for a minute). In fact, the book is organized into eight chapters — each one featuring a favorite ingredient of one of his friends (tomatoes, cheese, pasta, vegetables, meat, potatoes, sweet stuff, and chocolate). Even the written text of the recipes have a very hip, chatty, comfortable feel — as if your mate (oops–there I go again) is teaching you how to make his favorite recipe. But seriously, with entire chapters devoted to the likes of cheese, potatoes, and chocolate — you'd be hard-pressed not to find a recipe that cries out to you.
This book would definitely be a great idea to inspire a teen or young adult cook-in-training (and would make a great gift), but the recipes are accessible to all (perhaps on the more gourmet or adventurous side).
Speaking of kids who like to cook, my friend Lee just launched a new blog: Foodie plus 4 (she's the foodie, the plus 4 are her kids). She actually guest-reviewed a cookbook for us here: Cooking with Trader Joe's. Pop over and say hi!
Managing Editor Jennifer Donovan enjoys cooking (and eating). Reading about cooking is good stuff too. She blogs at Snapshot.