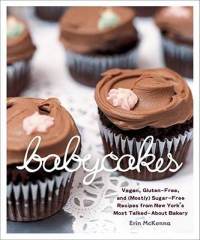 What parent doesn't want the best for their children? From the day our little kidlets are born, we're looking out for their best interests from food, to education, to playmates and influence.
We also love to give them yummy treats on special occasions. Frequently we like making special occasions out of ordinary days. We love creating things that will cause our children's eyes to light up and sparkle. I know that I love to hear my son laugh when he's delighted by something that I've presented him with. Pure, undefiled enjoyment of a young child. You cannot beat that with anything! Enter BabyCakes
: Vegan, Gluten-Free, and (Mostly) Sugar-Free Recipes from New York's Most Talked-About Bakery. Excepting the fact that I haven't been talking very much about this bakery, everything else included in the title is true. This is the recipe book to beat all vegan recipe books for children. What is most appealing about it? Cupcakes. Cakes. Scones. Cobblers. Yummy sounding, tasty things that LOOK tasty also. Deliciousness. Furthermore, all of the things I just mentioned can be made with healthy ingredients.
Click on over to 5 Minutes for Mom to read the rest of my review. You can also enter to win a copy for yourself.
Carrie comes by her book obsession honestly, having descended from a long line of bibliophiles. She blogs about books regularly at Reading to Know.